Jones claims hospital hygiene 'far better' under Labour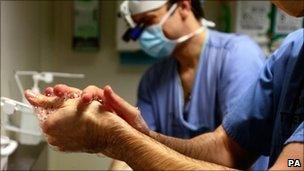 Standards of hygiene in hospitals are "far, far superior" than they were 15 years ago, First Minister Carwyn Jones has claimed.
Welsh Conservative leader Nick Bourne said Morriston Hospital in Swansea had seen almost 300 cases of pest infestation in four years.
During lively exchanges in the Senedd, Mr Jones said the problem was were being dealt with.
He defended the level of Welsh Assembly Government funding for the NHS.
Mr Bourne accused the first minister of "dangerous complacency" during question time.
Responding to Mr Jones' claim that standards had improved under Labour-led assembly governments, he said: "It hasn't improved.
"It strikes me as incredibly complacent, if you think 300 infestations of pests over the last four years when we had a Labour government in Westminster and a Labour government here is an improvement, goodness knows how bad it was before."
He accused the assembly government of presiding over declining numbers of health visitors, nurses and midwives, while the number of managers had risen.
But Mr Jones said just 4% of NHS staff were managers, compared to 43% who were nurses.
"Those pest infestations are being dealt with. You talk as if there were none at all before there was a Labour-led assembly government and that in the days of the Tories everything was hunky dory.
"I can tell you standards of hygiene in hospitals are far, far, superior to what they were 15 years ago when your party was in power."
Mr Bourne said that in December, Morriston failed to meet targets on seeing A&E patients for the 13th month in a row. He asked whether it was the right time to take £1bn out of the NHS over three years.
Mr Jones said an improvement programme had started despite the "significant cuts" imposed by the UK government.
He said Mr Bourne had "plucked" the £1bn-cut from the air without explaining where the money would come from to pay for it.
"Be honest with the people of Wales and tell them exactly how you would fund this alleged £1bn funding gap and where the severe cuts would come from if your party had the opportunity to do so," the first minister said.
"You make it sound as if £1bn was physically being removed from the NHS budget. You know that is not the case.
"What we've tried to do is to freeze the NHS budget over the course of the coming years. That's the best that we can do."
Mr Bourne said the Tories had published their spending plans, saying they would take 12% from the education budget compared to the assembly government's 8%.
Welsh Liberal Democrat leader Kirsty Williams asked whether the first minister thought spending £12m a year on locum doctors was an "efficient way to run the NHS".
He said there would be occasions when some medical posts were not filled and where it "made sense" to use locums rather than have no doctor at all.
Mrs Williams agreed it made sense to use locums to cover leave or sickness absences, "but it seems from the large amount of money that is being spent in the NHS we are using locums to cover full-time positions".