Home Office anger as AMs vote down Welsh police changes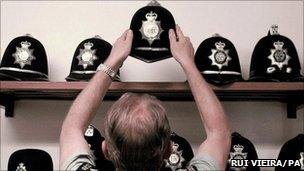 The Home Office has attacked AMs for voting against part of its legislation on elected police commissioners.
Policing Minister Nick Herbert called their vote "unwise" and said he feared AMs had "cut off their noses to spite their faces".
The UK government wants to bring in elected police commissioners in England and Wales.
But it needs the assembly's permission to introduce police and crime panels to scrutinise the commissioners in Wales.
The panels would affect local government, which is devolved.
AMs voted to refuse their consent in the Senedd on Tuesday night, the first time such a move has happened on Westminster legislation.
Mr Herbert reacted angrily, saying he would push ahead with his plans for elected commissioners anyway. Concessions offered to Wales would be withdrawn, he added.
But some senior figures in the assembly say the rebuff over police panels may have much larger implications for the way the system of commissioners can now work in Wales.
Mr Herbert wrote to AMs on Monday, urging them to vote in favour of the so-called legislative consent motion. He said he was concerned there may be some misunderstanding about the motion and insisted it was not a vote on the merits of commissioners.
Responding to the vote, Mr Herbert said: "This wasn't a vote on police and crime commissioners because the House of Commons has already decided to introduce them in England and Wales.
"It was a vote to ensure that special arrangements could apply in Wales.
"By unwisely voting against the motion, I regret that some assembly members have cut off their noses to spite their faces, so that these agreed arrangements for Wales, which gave a role for the Welsh Assembly Government, cannot now apply.
"Police and crime commissioners will go ahead, ensuring that the people in Wales have a real say over how their communities are policed."
The assembly government, which is opposed to replacing police authorities with directly-elected commissioners, said it would inform the Home Office of the assembly's decision.
The four Welsh police chief constables last year questioned the need for elected commissioners.
Related Internet Links
The BBC is not responsible for the content of external sites.