Who's behind the campaigns in Welsh assembly referendum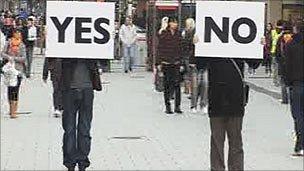 As voters prepare to cast their ballot on 3 March, BBC Wales political reporter Daniel Davies looks at what unites and divides the opposing camps in the Welsh assembly powers referendum.
The two biggest groups campaigning for the Welsh assembly powers referendum have at least one thing in common - neither can use public funding.
Under the rules, the Electoral Commission could have designated lead campaigns from the Yes and No camps for the referendum.
The decision of True Wales, the most prominent group behind a No vote, not to seek lead campaign status deprived its rivals of the same privilege.
Getting the nod from the commission would have entitled each group to £70,000 of taxpayer funding, free mail-shots and TV and radio broadcasts.
Although Yes for Wales crossed the threshold to qualify and was deemed to adequately represent people who want a Yes vote, the sole opposing application - a lone blogger - did not.
That means that Yes for Wales and True Wales must do battle with whatever resources they can raise themselves.
Beyond that, there is little they share with each other.
Yes for Wales has the firm support of the leaders of the assembly's four main parties.
Meanwhile, True Wales tries to make a virtue of its detachment from the political hierarchy.
Yes for Wales is led by a successful businessman with ample experience of dealing with the media.
True Wales is fronted by a schoolteacher who had little public profile until joining the debate about devolution.
As chief executive of the WRU since October 2006, Roger Lewis was a well-known figure before being asked to chair Yes for Wales.
With the possible exception of national team coach, there can be few jobs in Wales under more pressure than heading the governing body of what many regard as the country's national sport.
Given that his tenure as chairman of Yes for Wales comes during a Six Nations campaign in the year of a Rugby World Cup, no-one could accuse him of being workshy.
On its website, Yes for Wales states its aim is to "fight for a stronger voice for Wales".
Mr Lewis gave a brief foretaste of his views in November, before he was unveiled as Yes for Wales chairman
He said a decision by the BBC to continue broadcasting an Andy Murray tennis match, missing the start of Wales vs New Zealand at the Millennium Stadium, was "symptomatic of an increasing marginalisation of Wales by decision-makers in London".
Yes for Wales has made much of the grassroots support it has attracted from around Wales, but the team behind Mr Lewis has no shortage of experience and can call on the muscle of some seasoned political campaigners.
With no big political hitters in its ranks, True Wales insists it is a group of "ordinary voters" from across the political spectrum. It too has sought to claim the mantle of a grassroots movement.
Though it might lack the expertise of its rivals, True Wales has shown an ability to clinch headlines.
The decision to shun public funding - an attempt to save taxpayers' money, says True Wales - may have made life difficult for both sides.
But springing the announcement at the launch of its campaign in Newbridge Rugby Club undoubtedly won some extra attention for True Wales.
The movement has not always shown itself to be so sure-footed, however. One of its members apologised after using a homophobic term on the group's Twitter feed and another said not enough people in Wales had the necessary ability for the assembly to take on full law-making powers.
True Wales was formed in 2008 by a group of people opposed to further devolution in response to the All Wales Convention.
Since then its membership has grown as like-minded individuals around Wales sign up to oppose increasing the assembly's power.
Although Ms Banner, a Labour Party member, is the face of its campaign, True Wales says it chose to avoid an internal hierarchy and its members do not have titles in an attempt to be as democratic as possible.