Plaid leader Ieuan Wyn Jones's Labour 'smear' anger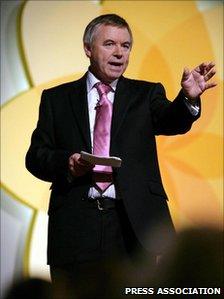 Deputy First Minister Ieuan Wyn Jones has accused critics within the Labour party of smearing his record.
Plaid Cymru leader Mr Jones said anonymous figures had questioned his ability as the assembly government's economy and transport minister.
Mr Jones told BBC Wales he wanted to "set the record straight".
First Minister Carwyn Jones said he took no notice of anonymous attacks and that the economy was the joint priority for him and the deputy first minister.
The Plaid leader said he was very disappointed at the attacks, but was confident they did not come from any of his fellow ministers within the two parties' coalition government.
He also denied his comments were an effort to begin a process of decoupling Plaid from Labour ahead of the assembly election in May.
In an interview with BBC Wales, Mr Jones said he had inherited "substantial problems" when he came into office, and that the transport side of his department was "out of control financially" with overspending on road schemes.
Asked why he felt the need to speak out now, he said: "I think it's necessary because people have been questioning whether a Plaid Cymru minister has been able to deliver, and questioning whether I personally have been able to deliver within the department.
"And I think it's time therefore that given that those questions have been asked by certain people it's important now for me to set the record straight.
"There have been unattributable briefings which I think you will find have been made which have attacked me personally.
"I don't know where they have come from because they are unattributable - that's why I think it's difficult and I'm very disappointed about that.
"But given that they have now been made I think it's important for me to take this opportunity to put the record straight."
The Western Mail on Thursday quotes one unnamed senior Labour figure as saying Mr Jones was "the One Wales weak link", but denied it was a party political attack but that he had "lost the confidence and respect" of the Welsh business community.
A senior Welsh Labour MP is also quoted anonymously as being "very disappointed" with his performance.
Mr Jones said he did not know who exactly had briefed against him.
He added: "It has come from the Labour side, but I don't know where within the Labour side.
"I would be very disappointed and I don't think it would have come from within the One Wales government.
"What I do know is that this kind of attitude now is not good enough and we've really got to get on and make sure that we can deliver for the people of Wales.
"I came into government in order to deliver.
"I hope that by my record I've shown that I can deliver and I want the people of Wales to judge me on my record, not on these kind of unattributable briefings which obviously would undermine things otherwise."
First Minister and Welsh Labour leader Mr Jones said: "This government has worked hard in order to create a new economic programme for Wales as we emerge from recession. Every single minister has been totally committed to delivering on this.
"I have never taken much notice of anonymous attacks because they are commonly way wide of the truth.
"With two months to go until the election, our joint priority, Ieuan and I, is to work together to future economic prosperity for Wales.
"Cool heads must prevail as we move towards 3 March"
A Labour source said "these legitimate criticisms are not personal smears.
"They reflect what many people in business are telling us about his performance as a minister.
"Dismissing their concerns as 'dirty tricks' doesn't exactly inspire confidence.
"It's now for the people of Wales to judge him on his record in the assembly elections in May."
Related Internet Links
The BBC is not responsible for the content of external sites.