Rugby ref to vote Yes in referendum on assembly powers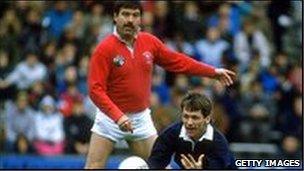 Former rugby referee Clive Norling has called for a Yes vote in the Welsh assembly powers referendum.
He joined the campaign because of how long it took the assembly to acquire powers and legislate on mental health.
Once one of the world's most feted referees, Mr Norling later battled clinical depression for six years.
The No-vote group True Wales said a bid to devolve powers over mental health legislation was an "excellent example" of AMs and MPs working together.
Mr Norling said his personal experience convinced him a Yes vote on 3 March would mean the assembly could respond quicker to people's needs.
The Mental Health Measure, passed by the assembly last year, requires service providers to make sure patients have a care coordinator and a treatment plan.
It followed a legislative competence order (LCO) from Conservative AM Jonathan Morgan who campaigned to improve the rights of people with mental health problems.
LCOs allow the assembly to draw down powers from Westminster on a case-by-case basis. They will be scrapped and the assembly will gain primary law-making powers in devolved policy fields if there is a Yes vote in the referendum.
Mr Norling, who refereed throughout the world in the 1980s and 1990s, said there was common agreement in Wales that a more co-ordinated approach would provide better care for mental-health patients.
"But Wales had to wait three years to pass the law that gives people with mental health conditions new rights in regard to assessment, treatment and the services that help tackle these issues in a holistic way, putting an end to the post-code lottery that currently exists in Wales," he said.
In 2009, he told the BBC that depression left him unable to leave home or talk to people.
He said the failure of agencies involved in his treatment to co-ordinate the management of his illness had a huge impact on him and his family.
He added: "When you are ill you need treatment now.
"We cannot again afford to wait three years to get 'permission'. It's a waste of time and money, which can be put to more practical use in the delivery of services in Wales.
"Voting Yes will mean an end to the current slow bureaucratic process, which absorbs valuable resources, costs and time."
In a statement, True Wales said: "This LCO on the provision of mental health services is an excellent example of our Welsh MPs and AMs working together in a spirit of shared endeavour to deliver the best outcome for the people of Wales.
"A No vote will ensure that our AMs and MPs continue to work together to produce carefully crafted laws for Wales, based on the recommendations of the Welsh affairs select committee at the end of the last parliament for improving aspects of the process."
Related Internet Links
The BBC is not responsible for the content of external sites.