Greens 'ready to win first Welsh assembly seat'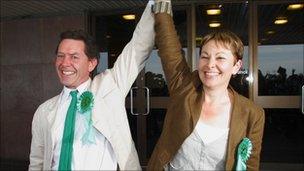 The leader of the Wales Green Party claims it is poised to make a breakthrough at May's assembly election.
Jake Griffiths also argued that he has an opportunity to become the Greens' first AM.
He was speaking as the Green Party prepares to begin its spring conference in Cardiff.
He said they could build on the success of their leader Caroline Lucas, who became the party's first MP last year.
Mr Griffiths, who will head the party's south Wales central regional list for the assembly election, said May was a "great opportunity to elect the first Green Assembly Member".
"The Green Party is holding its conference here to highlight the opportunity," he said.
The Greens will field a full slate of candidates in the five electoral regions.
Mr Griffiths said the party had increased its vote at every election where a proportional voting system was used since 1999.
It came joint fifth in the south Wales central region at the last assembly election in 2007 with a 3.8% share of the vote.
He said the Greens were targeting disillusioned Liberal Democrats who feel let down by the Westminster coalition government, and will try to win the second vote of Labour supporters in south Wales central, where Labour holds all but two constituencies and has little chance of winning a regional seat.
"When voters hear our message they like what we have to say," he said.
Mr Griffiths will address the conference, followed by Ms Lucas, the MP for Brighton Pavilion.
Related Internet Links
The BBC is not responsible for the content of external sites.