Jones: Referendum Yes vote would let Wales 'catch up'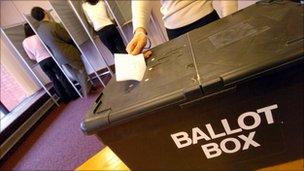 A Yes vote in next week's powers referendum would let Wales "catch up" with the rest of the UK, First Minister Carwyn Jones has said.
He went head-to-head with No campaigner Nigel Bull who accused the assembly of failing to deliver.
They locked horns on BBC Radio Wales' Phone In ahead of next Thursday's vote.
Voters will be asked to decide whether the assembly should have direct law-making powers over devolved policy fields.
Mr Jones defended the record of the assembly government, but said that was not connected to the referendum.
He said: "This is nothing to do with the vote on Thursday. It's nothing to do with the actual question people are being asked to answer."
He added: "Do people think that the laws that only affect Wales should be made in Wales?"
Voting in favour of more powers would mean a more "efficient and cheaper form of government", the first minister said.
He urged listeners to vote Yes so Wales can "catch up with everybody else in the UK".
He said that thanks to the assembly government lower tuition fees would mean students "won't be priced out of universities in Wales", teenagers had more choice in courses and primary school children would benefit from the foundation phase.
At present, the assembly must apply to parliament to grant it law-making powers on a case-by-case basis.
The first minister compared the system to having control of a car's steering wheel "but somebody else pushes the pedals".
Mr Jones's defence of education policy came after Mr Bull highlighted a recent report from the education inspectorate Estyn which said standards were not good enough in nearly a third of schools.
Mr Bull, who is from the group True Wales which is campaigning for a No vote in the referendum, said he wanted next Thursday to be "vote No day... because of 12 years of under-performance by the Welsh assembly".
"It hasn't served the people of Wales well," he said. "I feel that Wales has gone backwards during those 12 years and we have not seen the benefit we all hoped for."
Handing AMs more law-making power would "give the politicians a comfort zone that they succeeded".
Mr Bull said he voted in favour of devolution at the last referendum in 1997.
But he added: "The power still lies in a bubble down the bay in Cardiff and hasn't gone to the people where it belongs."
Related Internet Links
The BBC is not responsible for the content of external sites.