Welsh referendum: 'Dr No' Tim Williams says 'vote Yes'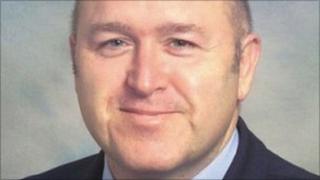 A leading member of the campaign against creating the Welsh assembly in 1997 has spelled out why he supports a Yes vote in Thursday's referendum.
Dr Tim Williams, a prominent No campaigner in the last devolution referendum, says Wales needs a system of government to solve its problems.
The current settlement does not give Wales the tools it needs, he said.
Nigel Dix, of True Wales, which wants a No vote on Thursday, said Wales did not need "more laws and costly government".
Voters will go to the polls to decide whether the assembly should still have to ask Westminster for consent to pass laws in the 20 broad policy areas in which it has powers, such as health, education, the environment and transport.
If Wales votes Yes, the assembly could then pass laws without first having to gain the approval of parliament.
In an article for the BBC Wales News website, Dr Williams - dubbed "Dr No" for his opposition to devolution at the 1997 referendum - says Wales needs more self-government.
He says: "Whatever one's view in 1997, the issue now is in ensuring Wales has a system of governance in which its problems can be addressed and solved."
'Run the show'
Dr Williams, a former adviser to Labour ministers, says: "In their bones English ministers now simply do not think of Wales when framing laws and policy interventions.
"Someone needs to. That would be us, then."
Although the first decade of devolution had not been as exciting as many of its advocates expected, its biggest achievement was to prove "the Welsh could run their own show".
In an opposing article, Mr Dix, a Labour member of Caerphilly council, says there are plenty of good reasons to vote No.
Mr Dix, who voted Yes to devolution in 1997, says: "Over the past 10 years we have witnessed a power-hungry assembly that has drawn more and more powers from Westminster and local government to the centre."
Thursday's vote is "about turning the assembly into a parliament, something that was not stated on the original ballot paper some 12 years ago", he says.
Mr Dix adds: "We must ask ourselves whether Wales needs more laws and costly government?
"The answer has to be a resounding No."
A second referendum debate in English will be broadcast at 1035 GMT on BBC One Wales on Monday from Blackwood, Caerphilly county.
The panel will include Yes for Wales chair Roger Lewis, First Minister Carwyn Jones, True Wales chair Rachel Banner and Nathan Gill from UKIP.