'Hybrid' gives first Green MP title to Caroline Lucas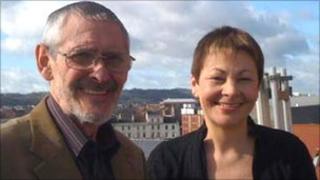 At least one big question was answered when the Green Party held their annual conference in Cardiff.
It was this: Caroline Lucas is officially the first Green MP.
Says who? Well, the former MP and AM Cynog Dafis, and you might well ask what it has to do with him.
Quite a bit really, as he was elected MP for Ceredigion in 1992 when he stood on a joint Plaid Cymru and Ceredigion Green Party ticket.
But when Cynog met Caroline for the first time on Sunday, he was happy to clear the air and relinquish any claim to the title.
"I was a kind of hybrid, so I don't really count," he said.
"I am more than happy to say that Caroline Lucas is the first Green MP".
The pair met prior to being interviewed on the BBC's Politics Show.
He had come in to the BBC Wales studio at the Welsh assembly discuss this Thursday's referendum on whether the Welsh assembly should gain more law-making powers, while she was talking about the Green Party's chances of getting an AM elected for May's assembly election.
Ms Lucas said his endorsement was special: "I think Cynog is being very generous.
"To me he is a legend: he's legendary in the green movement and it is an honour to actually meet him here today.
"I was so proud to be elected as the first Green MP, kind of following in his steps, but we now have to move on from that and I am hopeful that we can get a Green AM elected to the National Assembly in May".
The Greens think that they could win a list seat by targetting the south Wales central region in May's assembly election.
'Done their maths'
Mr Dafis dropped his official Green support in the 1997 general election and subsequent assembly elections when he stood for Plaid alone. He is open minded as to whether the Greens can win their first Welsh assembly seat.
"I'm not sure whether there will be a Green Assembly Member returned in May's assembly election.
"The Greens have done their maths and are targetting South Wales Central - I wish them good luck, but what I would say is that the National Assembly has grasped the green agenda in a very good way.
"There are all sorts of schemes being promoted at the moment from home insulation to agri-environmental projects.
"I am quite a big fan of the Arbed project -- it's an energy efficiency scheme which helps people in some of the poorest areas of Wales to reduce fuel bills.
"There's something like £30m to provide external wall insulation and renewable energy technology such as solar panels".
One thing is he sure of - that it was a pleasure to meet the first "fully" Green MP in person.
"I did see her speak at a conference once - but she wasn't an MP then and I didn't get to have a word with her afterwards."