Welsh Lib Dems face 'most important' vote since 1999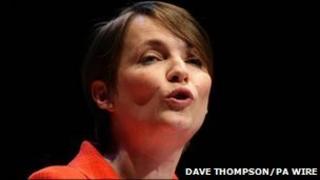 The Welsh Liberal Democrats will seek to rally the party faithful for May's assembly election at their annual conference in Cardiff.
Welsh Lib Dem leader Kirsty Williams said the election was the most important since devolution began.
The party's opinion poll rating has dropped since the Lib Dems went into coalition with the Conservatives in Westminster last year.
But Lib Dem politicians insist their party is in good spirits.
In her conference message to members, Ms Williams says May's election is the "most important one that Wales has seen" in the assembly's 12-year history.
The conference is the last opportunity for the party - which has flatlined on six seats at all three assembly elections - to decide on what Ms Williams calls the "radical policies that can help build a better Wales".
Attacking the record of the Welsh assembly government, she said: "We will show that our costed policies will transform the failures that will have been left behind by the Labour-Plaid government."
'Moving forward'
Lib Dem MP for Ceredigion Mark Williams said there had been "difficult decisions" for the UK government, "but we are moving forward on the issues that Wales wants to talk about in the assembly elections".
Mr Williams, who voted against the UK government's rise in university tuition fees, said "there are concerns" about some policies of the Westminster coalition government.
"But this is an election for the national assembly. It's an election about the health service in Wales, about education, about the delivery of rural services and about delivering those services and I think that's what people want to talk about and that's what this party under Kirsty Williams's leadership wants to talk about."
Lib Dem leader and deputy prime minister Nick Clegg will speak at a rally to kick off the conference in the Angel Hotel in Cardiff on Friday night. Business Secretary Vince Cable speaks on Saturday afternoon.