Polls close in Welsh assembly law-making referendum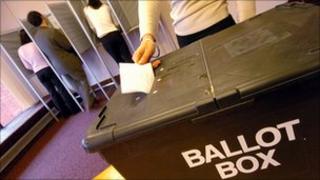 Polls have closed in the referendum on the Welsh assembly's law-making powers.
A Yes vote would give the assembly direct law-making powers over 20 devolved policy fields.
A No vote would keep the current system where the assembly asks parliament for powers to be transferred to Cardiff on a case-by-case basis.
Counting starts on Friday, with a final result likely to be announced in the afternoon. Opinion polls suggest the Yes camp has a healthy lead.
First Minister Carwyn Jones said the campaign had "gone well".
"The signs are very good."
Actual argument
Asked if he was worried about turnout, he said: "Oh, less worried than I was, I have to say."
Postal vote turnout had been "pretty healthy", he said.
"I think the No campaign focused on a lot of things that weren't actually relevant," Mr Jones said.
"They were talking about this leading to separation and tax-raising powers and more politicians.
"None of these things were ever true. That's because they never focused on the actual argument which is should the laws that only affect Wales be made in Wales. That was it."
Sacrificed
Rachel Banner, from the No campaign True Wales, accused politicians of refusing to "engage with the issues".
She said her group feared Wales was "very firmly on that slippery slope" towards independence.
"What we need is our politicians to sort out our crumbling economy and our schools and health service, and distracting themselves on this issue of direct law-making power we believe has been a mistake," she said.
"And really what we need is for them to focus on getting the economy up and running."
She said a high turnout would favour a No vote and that the referendum should have been held on assembly election day in May.
She added: "We've done everything we can to get people out. We've been all over the country.
"We've sacrificed quite a lot to get this message out. We're not professional politicians. We're a grass-roots movement. And we will be continuing beyond this campaign."
BBC Wales will have comprehensive results coverage on Friday on the News website, TV and radio.
The News website will include a match report-style live page, continually updated as counting goes on.
On TV, Referendum 2011 - The Result, presented by Jamie Owen, will be on BBC One Wales from 1030 GMT, it will switch to BBC Two Wales, and will continue on BBC One Wales until after the final result.
S4C will show Refferendwm 2011 from 1030 GMT to 1600.
There is also coverage from 1100 GMT to 1500 GMT on BBC Radio Wales and 1105 GMT to 1530 GMT on BBC Radio Cymru.