Welsh referendum: Yes vote to 'settle assembly issue'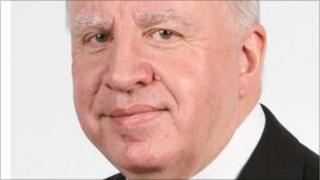 Former Welsh Secretary Paul Murphy says the result of the assembly referendum will settle the constitutional question "for some years to come".
The Torfaen MP said he used to be sceptical of devolution but was now convinced the assembly was working.
But Rachel Banner, of True Wales, which backed a No vote, said the expected Yes result must not be seen as a "ringing endorsement" of the assembly's record.
A Yes vote gives the assembly direct law-making powers in 20 areas.
"We've said all along there aren't people out on the streets demanding more power for politicians in Cardiff Bay," said Mrs Banner.
"And it certainly looks as if that's the way from the turnout figures," she said as provisional figures showed a turnout of about 35% across Wales.
Assembly Presiding Officer Lord Elis-Thomas said he was not happy with the level of debate.
He said a House of Lords committee had recommended that referenda should be on "fundamental matters", but this vote was about a question "cobbled" together by the Labour Party.
Deputy First Minister and Plaid Cymru leader Ieuan Wyn Jones blamed low turnout figures on the fact the No group did not seek official campaign status.
Mr Jones said that meant the whole campaign for both sides was "fairly low key".
Lead campaigns in the vote were entitled to £70,000 of public funding, free mail-shots and TV and radio broadcasts.
But this was only available if campaigns were designated on both sides.
"I think we have to look at the legislation here," he said.
"I don't think that you can say that one side can prevent another side from campaigning effectively."
'Come together'
Daran Hill, from the Yes for Wales group, said: "It has been a gruelling few months.
"What we really wanted to do was to bring Wales together through this campaign and we've been vindicated today with the results - Wales has come together."
After the results of the final count came in with Cardiff people adding to the success for the Yes vote, Roger Lewis, chair of the Yes for Wales campaign, said: "Let us be in no doubt about the challenges ahead."
But he said politicians would now have the "tools" to make changes in Wales.
The Archbishop of Wales, Dr Barry Morgan, said: "This is good news for Wales as it means we can now take charge of the areas in which our law is devolved and we are no longer out on a limb as far as governance is concerned.
"The low turnout does not make the result invalid - everyone had the chance to vote and most of those who turned out voted Yes."
Scottish First Minister Alex Salmond said: "I congratulate the people of Wales on their decision to move the powers of the National Assembly forward - it is a great result."