Welsh referendum: Change of heart 'mind boggling'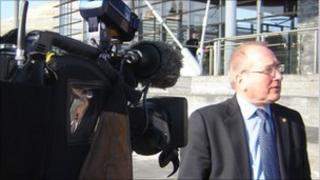 The overwhelming Yes vote on Welsh assembly powers shows a complete change in electors' views, says former First Minister Rhodri Morgan.
This referendum is a massive turnaround from 1979, when voters decisively rejected plans for an assembly.
The second referendum in 1997 which led to the creation of the assembly saw a Yes vote by the narrowest margin.
But 2011 has seen voters in 21 of 22 counties back direct law-making powers for the assembly in 20 devolved areas.
Only Monmouthshire voted No, by a majority of just 320 votes, whereas in 1997 the majority against setting up the assembly in the county was 11,811.
Some counties saw a considerable change in favour of giving the assembly more power like Flintshire where there was a 24% swing to a Yes vote since 1997.
'Phenonmenal'
Mr Morgan described that as a "mind-boggling transformation".
Environment Minister Jane Davidson described voters' decision as "phenomenal", considering how "youthful the assembly still is".
The turnout was considered low by many at 35.4%, and Rachel Banner of True Wales, which wanted a No vote, has asked if the result has the "full-hearted consent of the Welsh people".
But Ms Davidson said the mayor of London was elected with a turnout of around 35% and "no one has ever questioned the legitimacy of that result".
Neath Port Talbot saw a 7% swing to Yes since the 1997 referendum, while it was 9% in Powys.
In Torfaen, 62.8% voted Yes, whereas in 1997 the county narrowly voted No with a 50.2% majority.
Former Welsh Secretary and Torfaen MP Paul Murphy said the assembly had "proved itself".
He said "believe the assembly is not only here to stay but is serving the people well".
Mr Murphy, who voted yes after previously opposing devolution in 1979 and 1997, said: "The Welsh assembly is now well established. It's grown up.
"It's become very much part of the lives of Welsh people and it's done a good job in terms of protecting our basic services," he said.
"And so I think a lot of people like me who were sceptical in the beginning about what devolution could bring have changed our minds."
In the No camp, David Bevan from UKIP Wales said two-thirds of Welsh people have "decided that it wasn't worth voting".