Nick Clegg says Lib Dems are 'doing the right thing'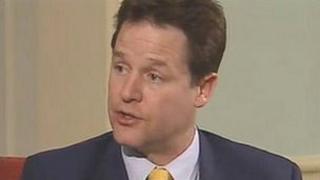 Nick Clegg says conclusions should not be drawn from the Liberal Democrats' Barnsley by-election defeat for their Welsh assembly election hopes.
Lib Dems came sixth in Barnsley Central and his candidate lost his deposit.
But the deputy prime minister, at the Welsh Lib Dems' spring conference in Cardiff, said there would be many other issues at the assembly election in May.
He said voters understood Lib Dems were in the Westminster coalition government "to do the right thing".
Mr Clegg arrived in the city centre hotel before about 30 protesters gathered outside chanting.
He welcomed the Yes vote earlier in the day in the referendum on direct law-making powers for the Welsh assembly, and said the next step was set up something similar to Scotland's Calman Commission to look at issues such as funding and taxation powers.
Mr Clegg said the referendum was "a big sign that the Welsh people wanted more power and authority and we must play our part in the Westminster government to answer that call".
He said that could allow "greater financial responsibility to be built into the system".
Asked if that could mean tax-varying powers for Wales, Mr Clegg said: "Let's look and see what it means. Lots of people have different views. In the Scottish case it did lead precisely to that."
Of the Barnsley Central result, Mr Clegg said: "Wales isn't Barnsley of course and I don't think one should make generalisations from one specific by-election in England to elections in Wales.
'Big issues'
"The Welsh elections have many other things at stake: how is the Welsh economy going to recover from the incompetence of years of the Labour government?
"How is Wales, like the rest of the country, going to deal with some of the savings we are doing, and at the same time rebuild the kind of jobs that we need to offer our young people? Those are the big issues that are at stake."
On the falling ratings for him and his party, Mr Clegg said: "Opinion polls change all the time - an opinion poll last week put us back up on 18%. Politicians and political parties of course wax and wane in popularity.
"Obviously when the Liberal Democrats are in government in Westminster for the first time for generations and at a time when we have been left with this unenviable task of having to fill this huge black hole left by Labour, yes, we are doing things which are controversial... which will court unpopularity.
"We always accepted that. The Liberal Democrats went into this coalition in Westminster with our eyes open."
He said that "if you don't deal with this great black hole that Labour has left behind, you are simply going to be asking the children and grandchildren of Wales to pay off our debts".
Mr Clegg told party members that after the general election failed to produce a conclusive result last May, they could have "chosen to sit on the sidelines, risking economic instability and turning our back on the challenge of governing".
He said change would "always encounter fierce criticism" but unlike Labour, the Lib Dems had taken responsibility.