Plaid conference starts with eye on assembly election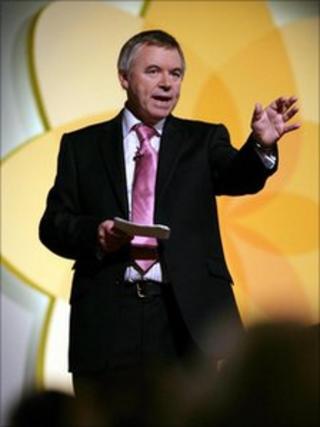 Plaid Cymru aims to kickstart its assembly election campaign at its spring conference this weekend.
The conference in Cardiff is the last of the four main parties before voters go to the polls on 5 May.
There have been signs of unease between Plaid and Labour after four years of governing together in a coalition.
Plaid leader Ieuan Wyn Jones said the party has made a difference through being in power.
Mr Jones said the conference was an opportunity to outline what a Plaid Cymru government would prioritise over the next five-year assembly term - while also claiming credit for delivering a successful referendum result on the assembly's powers earlier this month.
The party will also point to legislation on affordable homes and the Welsh language.
Plaid has been in coalition with Labour in the assembly government since inconclusive elections in 2007.
But there have been signs of the two parties decoupling ahead of the elections in May.
Plaid has attacked Labour's handling of education policy, while Mr Jones has been branded an "ineffective" deputy first minister by Labour's shadow Welsh secretary Peter Hain.
Opponents have attacked an idea launched by Plaid last week for a not-for-profit company that would raise money through the financial markets to fund public infrastructure projects such as roads, schools and hospitals.
Plaid AM Nerys Evans, the party's policy director, said having negotiated a referendum on law-making powers and a commission into how Wales is funded by the Treasury last time around, it was "difficult to see what the Labour Party can offer" in another coalition after May.
But asked about the possibility of forming an alternative coalition with the Conservatives and the Liberal Democrats, she said: "With the cutbacks too soon and too quickly decimating some of our public services and massively affecting people's lives it will be difficult to see what conditions a coalition with the Conservatives would be. I can't see that as a popular option."