Peter Hain, ex Cabinet minister, to publish memoirs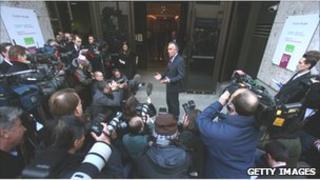 Former Welsh Secretary Peter Hain is to publish his memoirs, it has been revealed.
Biteback Publishing said it plans to release the Neath MP's autobiography, titled Outside In, next January.
It will trace Mr Hain's journey from his campaign against apartheid in South Africa in the 1960s and 1970s to his time as a New Labour Cabinet minister.
Iain Dale, the publisher's managing director, said it would be "the story of a courageous, campaigning life".
Kenya-born Mr Hain was brought up as the child of activist parents in Pretoria, South Africa, he explained.
At one point his parents were taken away in the middle of the night by the security police, leaving him to look after his younger brother and two small sisters.
Later, a close family friend was hanged, Mr Hain was sent a letter bomb and framed on a bank theft charge committed by his double.
After moving to Britain, in the mid-1970s he joined the Liberal Party before switching his allegiance to Labour.
He was elected Labour MP for Neath in 1991 and went on to hold a number of top political posts under both Tony Blair and Gordon Brown.
These included key roles in the Foreign Office, Europe, and Energy, the leadership of the Commons and brokering the 2007 devolution settlement in Northern Ireland.
Mr Hain resigned from the government in January 2008 after a row involving donations for his failed Labour deputy leadership bid.
He returned as Welsh Secretary in June 2009 and is now shadow Welsh Secretary.
Peter Hain said of the book, "As a boy living under apartheid and then as a protest leader exiled in Britain, I never imagined becoming an MP, let alone a Cabinet minister."
Mr Dale claimed it would be "far from the dusty compendia of life in the Westminster Village you sometimes get from the memoirs of former ministers".