Battle for countryside votes in Welsh election campaign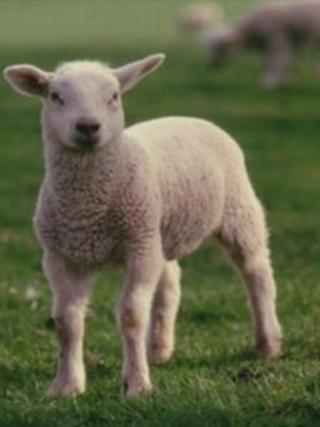 Political parties have clashed as they battle for rural votes in the Welsh assembly election campaign.
Plaid Cymru said the UK coalition government was threatening farmers' livelihoods, while Labour said it wanted to stand for the whole of Wales.
Plaid were accused of "scaremongering" by the Conservatives and of "bungling" policies for the countryside while in office by the Welsh Liberal Democrats.
Welsh farmers receive about £280m a year from EU payments.
Plaid's Elin Jones, who visited agricultural markets in north Wales on Tuesday, said her party would "protect and promote" rural Wales.
She said payments to farmers from the EU's common agricultural policy (CAP) were under threat from the UK government - a claim denied by the Welsh Tories.
It follows comments from UK Environment Secretary Caroline Spelman who called for a "fundamental" rethink of the CAP and said the industry should reduce its reliance on subsidies.
Plaid's manifesto for the election on 5 May will include a "square meal, square mile" policy to increase the amount of local food used in hospitals, schools and other public bodies.
Ms Jones, Plaid's candidate in Ceredigion and rural affairs spokeswoman, said: "I am determined to continue to do all that I can to fight the abolition of CAP payments and ensure that they are protected into the future."
She said Plaid would work with farmers and food producers to supply hospitals and schools. The party would promote Welsh food and drink on offer to visitors through better marketing at home and abroad, she added.
Meanwhile, the Welsh Conservatives were promoting a charter for rural Wales, promising a Tory assembly government would work with councils to protect public services.
They offered support for community groups who want to run village halls, pubs and post offices.
Angela Burns, Conservative candidate in Carmarthen West and South Pembrokeshire, said: "Welsh Conservatives are committed to securing the future of direct payments to 2020 and beyond during CAP reform negotiations.
"We want a thriving and profitable farming industry in Wales, but we recognise that market failures make direct payments the best way to support farming in the years ahead."
She said Plaid should stop "scaremongering" and "apologise for neglecting Wales' rural communities and small businesses during their years in power".
The Welsh Lib Dems attacked Plaid over the assembly government's Glastir land-management scheme.
The Lib Dems have launched a manifesto for the rural mid Wales seat of Montgomeryshire, which they won at the last assembly election.
It includes a pledge to make sure the Wales Air Ambulance, which the party says is vital for rural areas, operates seven days a week.
Their candidate in the constituency, Wyn Williams, said: "If they (Plaid) are promising to protect rural Wales now, where have they been for the last four years?
"In government, Plaid Cymru has bungled from one rural issue to another starting with the doomed-to-failure Glastir agri-environmental scheme."
Before standing down, former Welsh Labour leader Rhodri Morgan called for his party to rebuild support in the parts of Wales west of the rivers Loughor in the south and Clwyd in the north.
His successor Carwyn Jones said: "The cuts that are being imposed on the non-devolved areas - they affect people in rural Wales as well.
"We are a party that stands up for the whole of Wales.
"In the manifesto we have taken into account what we need to say to people in rural Wales."