Plaid Cymru: Four election pledges for 'better Wales'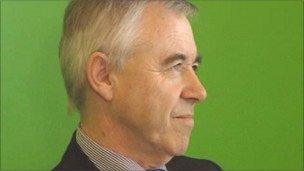 Plaid Cymru has published its four key pledges at the launch of its assembly election campaign.
Party leader Ieuan Wyn Jones said Plaid wanted to "transform" Wales.
The party, which formed a coalition assembly government with Labour in 2007, said it wanted Wales' economy and education system to be the "success story of the next decade".
It said its priorities included creating jobs and tackling child illiteracy.
One of Plaid's four key pledges is a Build for Wales fund - a private not-for-profit company that would invest in public infrastructure projects.
Opponents have attacked the idea as not being feasible, but Plaid says it would help make up for cuts in public spending and create 50,000 jobs.
It is offering to renegotiate contracts for doctors and dentists as part of an attempt to make it easier for people to get healthcare.
Plaid wants to halve the number of children leaving primary schools with inadequate literacy and numeracy by 2016 and end it by 2020. Plaid will reveal the cost of the pledge later in the campaign.
And a plan to "connect Wales" would involve better broadband access and working with the UK government to electrify railway lines.
Mr Jones, who launched the campaign in Deganwy, north Wales, said: "There is little doubt in my mind that the assembly has now won its place as an established and instrumental part of our ever evolving, modern nation.
He said the Yes vote in last month's referendum on the assembly's law-making powers "demonstrated beyond doubt that in the north, south, east and west, the assembly is now recognised for the role it plays in our daily lives".
"These elections should therefore no longer act as referenda on the role of devolution, but as a verdict on which party has the vision, the passion and the energy to create a better Wales," he said.
"Plaid Cymru is the only party in this election which will seek to transform Wales, not simply to manage Wales.
"Of course it will be a challenge given the financial and economic climate created and perpetuated by the three Westminster parties.
"But Plaid pledges that unlike Labour it will not use this as an excuse for low standards and poor performance."
He added: "We will raise the game. A Plaid government will step up to the plate. And we believe that our four key pledges for the next Welsh government will raise the expectations of the people of Wales."