Tories would freeze Severn Bridge tolls for car drivers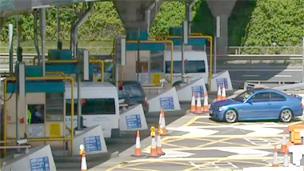 The Conservatives would freeze the toll for cars on the Severn bridges.
Freezing the toll at £5.70 for four years would cost the assembly government £29m, the Tories said.
Labour called the pledge a "bribe", the Lib Dems said it would not apply to lorries and Plaid called for tolls of less than £2 after 2017.
The Tories also pledged to commission an independent study into the effect of the tolls on Wales' economy if they win May's assembly election.
A Conservative assembly government would keep the £5.70 toll for a car on the M48 and M4 bridges until 2015.
Money to pay for the freeze would be given to the company that operates the bridges - Severn River Crossing plc.
Last December, MPs on the Welsh Affairs Select Committee said a freeze or reduction of the tolls would incur "significant costs".
The committee also recommended tolls should be reduced and concessions for those who depend on the crossings for their livelihood could be introduced.
Conservative south east candidate Mohammad Asghar said: "We want to free families from the burden of further price rises on the Severn bridge, while working to review the long term future of bridge tolls in Wales.
"This commitment puts an end to annual increases and ensures the cost to car drivers reduces in real terms over the next assembly term."
Plaid said control of bridges should be transferred to the assembly government and the tolls set at less than £2 when they return to public ownership in 2017.
The party's Islwyn candidate Steffan Lewis said: "A Plaid Cymru government would immediately initiate discussions to bring about the devolution of control, or shared control, over the bridges to Wales.
"With control over the bridges, we would significantly reduce the cost of the tolls to under £2 a car."
Shadow Wales Office minister Owen Smith, Labour's joint campaign manager, said: "This is a cheap electoral bribe which begs many more questions than it answers.
"Firstly, freezing the bridge tolls, however welcome that would be for hard working Welsh families, is not within the gift of the Welsh Conservatives, it's the responsibility of their masters in Westminster.
He said the policy was a "con trick and no substitute for an economic strategy to deliver the growth that the Tory-led government has ground to a halt".
Ed Townsend, Welsh Liberal Democrat candidate in Newport East, said the tolls should go, but the Tories' plans would mean they still apply to lorries.
"The tax on doing business in Wales would remain," he said.
"Welsh Liberal Democrats have consistently lobbied the Labour and now Conservative secretaries of state responsible for these tolls. Perhaps it is time the Conservatives did likewise."