Welsh Labour unveil five key assembly election pledges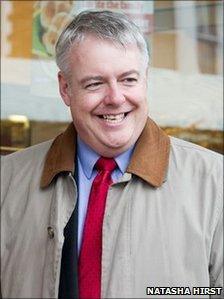 Labour has urged voters to send David Cameron and Nick Clegg a message at the launch of its Welsh assembly election campaign.
It said Wales had a choice of two directions - "backwards with the Tories or forwards with Welsh Labour".
Its five key pledges include more money for schools and making it easier for people to see their GP.
Labour also pledged to protect flagship policies from the first 12 years of devolution, such as free prescriptions.
Labour, which was in coalition with Plaid Cymru in the last assembly government, has firmly set its sights on winning a majority on 5 May.
It launched its campaign with simultaneous events in north and south Wales.
Welsh Labour leader Carwyn Jones was in Aberconwy and shadow Welsh secretary Peter Hain was in Llanelli - seats won by Plaid in 2007.
Labour's other key pledges offer more apprenticeships for young people, 500 extra police community support officers and doubling the number of children benefiting from free childcare and health visiting.
Mr Jones said: "There are four parties in Wales - but only a choice of two directions to go in. Backwards with the Tories or forwards with Welsh Labour.
"We are the only party in Wales committed to tackling youth unemployment and saving a lost generation cut adrift by the Tory-led Westminster government."
Mr Hain said: "This assembly election is an opportunity for voters to send the Tory-led UK government a message.
"The Tories are cutting too fast and too deep and it is decimating the Welsh economy while putting an unbearable strain on hardworking Welsh families."
Mr Jones has said he will go it alone to form a single party government if Labour wins 31 of the assembly's 60 seats.
Opinion polls suggest Labour has recovered ground since a tally of 26 seats at the 2007 election forced it into coalition with Plaid.
A poll for the Western Mail on Thursday put Labour on 50.8% of the vote, ahead of the Conservatives in second place on 20.3%. Pollsters rmg:Clarity spoke to 1,005 people by phone and carried out 44 online surveys on Monday and Tuesday.
On Monday Mr Jones told reporters that based on the feedback the party had received on the campaign trail, a "comfortable working majority is in our grasp". There were at least seven seats "in play" at this election, he claimed.