Welsh Conservatives to protect NHS budget - Nick Bourne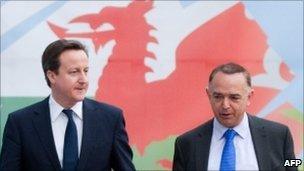 A Conservative assembly government would spend less on education and protect the health budget, says the Welsh Tories' leader.
Nick Bourne said his party would peg NHS funding to inflation.
Mr Bourne was the last of the assembly's four party leaders to answer listeners' questions about their election pledges on BBC Radio Wales.
Opponents claim a Tory pledge to ring-fence NHS spending would force bigger cuts on other departments.
Asked about the policy on The Radio Wales Phone-In on Thursday, Mr Bourne said: "We certainly are serious, that's why we have said there would have to be cuts in other areas.
"I don't think you can spend less on a health service when people are living longer, which they are thank goodness, when we're getting new treatments, which again is great, when new drugs are being developed for dealing with cancer and other diseases.
"We need to be spending more on our health service not less, that's why we've said we would grow the amount in line with inflation over the next assembly."
A Conservative assembly government would spend a "little less" on education than Labour, he said.
On Monday, Plaid Cymru leader Ieuan Wyn Jones was asked about his stance on building new nuclear power stations, which his party opposes.
Mr Jones is standing in Ynys Mon where he has been the AM since 1999 and was an MP between 1987 and 2001. Anglesey is home to Wales' only nuclear power station at Wylfa.
He said: "I've made it clear that a nuclear power station in Anglesey were it to go ahead would be a massive economic boost for the island and that's what I've always said.
"What I am saying is that I have a responsibility to the people of Anglesey and I will maintain that responsibility."
Welsh Liberal Democrat leader Kirsty Williams said her party had not "sold out" by going into coalition with the Conservatives in Westminster.
Asked about the UK government's decision to raise tuition fees when she appeared on the programme on Tuesday, she said: "I'm very pleased that the three Welsh Liberal Democrat MPs voted against the rise in tuition fees.
"What I do regret is that more people didn't vote for the Liberal Democrats - we were the only party running in that (last year's general) election who had a policy of free tuition fees. The Welsh Liberal Democrats have a policy of mitigating against those additional fees."
On Wednesday, Welsh Labour leader Carwyn Jones said his was the only party that could win a majority in the assembly on 5 May.
"It's absolutely essential that Labour supporters come out and vote Labour because then there won't need to be a debate about coalitions," he said.
"My aim is to win a majority, not to get enough seats to form another coalition."
Asked about the coalition Labour formed with Plaid in 2007, he said: "What I say to people who weren't happy with the coalition agreement is: 'Come back on board, and let's make sure that we can say to the people of Wales that their interests are best served by a majority Labour government'."