Next-day counting in north Wales for assembly election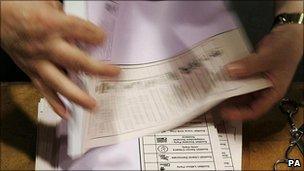 The final result of May's Welsh assembly election will not be known when voters wake up the following morning, it has been confirmed.
Election officials in north Wales will count votes the day after the election, despite pressure to count overnight.
Officers in the rest of Wales are sticking with tradition to start counting on the night of 5 May.
It follows a meeting of returning officers and the Electoral Commission on Monday afternoon.
All four main parties and the chair of the Assembly Commission Lord Elis-Thomas have criticised the plan.
Presiding Officer Lord Elis-Thomas has written to the chief returning officer in the north, Mohammed Mehmet, calling on him and his colleagues to change plans to count ballot papers the morning after the polls.
A final decision was expected following Monday's meeting of returning officers.
But Denbighshire council, where Mr Mehmet is chief executive, said counting would not take place overnight.
In a statement after the meeting, it said: "The position on behalf of the north Wales authorities remains unchanged. The count will take place on the Friday.
"The matter was not raised at this afternoon's meeting."
But BBC Wales understands the question was raised at the meeting.
Lord Elis-Thomas told BBC Radio Wales' Sunday Supplement programme that voters were entitled to know the results of the election as soon as possible, and that counting ballot papers overnight "makes politics more interesting".
But in replying to the presiding officer's letter, Mr Mehmet said changing the current timetable for counting ballots at this stage "carries high risk".
Officials face the task of counting three different ballot papers following voting on 5 May: for individual assembly seats, regional list seats and for the UK referendum on the alternative voting system to elect MPs.