Vote 2011: Powys voices air concerns for Welsh assembly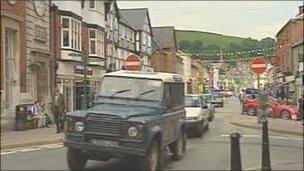 Voters in Powys have voiced concerns about pressures on their standard of living ahead of the Welsh assembly election.
Farmer Brian Jones, a former vice-president of the Farmers Union of Wales, said many felt mid Wales was neglected by the assembly government.
Steve Kaye of the Federation of Small Businesses, said small and medium companies were struggling.
Tourism Partnership Mid Wales said the industry needed its own minister.
They spoke at the Welshpool livestock market ahead of polling on 5 May.
Politicians are crossing Wales in the hunt for votes in the election campaign.
Electors will go to the polls on 5 May to choose the 60 AMs who will sit in the fourth assembly since the institution was founded in 1999.
But Mr Jones, a dairy and sheep farmer, told BBC Radio Wales that many working in the agriculture sector felt the main decisions about their livelihoods were made in Westminster.
He said: "Unless we get the right sort of person in the National Assembly we will get very little say.
"I think if you live below Merthyr or beside Wrexham the assembly government is doing well but mid Wales has been forgotten.
"A lot of businesses are closing and leaving because of the road structure and in our area the Newtown bypass is a real bottleneck and it's a headache for local business."
Work is expected to start on the road in 2014.
Mr Kaye said many of the smaller firms were facing "crunch time".
He said: "I would like to hear what they are going to do with the business rates because there's empty premises still paying full rates.
"I'd also like to see what they can do to alleviate the fuel pressures, like with the haulage people in rural areas, who are very worried about it.
"And we need a good investment into the farming industry because it's costing them a fortune to feed their animals."
Neil Bale of the Tourism Partnership Mid Wales said Powys was a "world class" area, possessing a lot of natural beauty.
He added: "The tourism industry would like to see its own tourism minister.
"We have a minister for heritage and culture but tourism is about 13% of the Welsh economy and I don't believe that's reflected in the assembly government."