Vote 2011: Firms' election plea on skills and red tape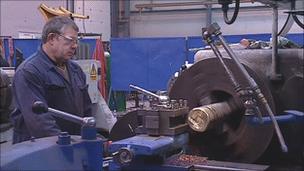 Small and medium-sized companies in Wales claim they are missing out on contracts due to a skills shortage.
Businesses are calling on the next assembly government to boost jobs by cutting red tape and placing more emphasis on apprenticeships.
Bill Ledwood, a Swansea businessman, said his manufacturing firm could take on another 20 skilled workers immediately if they could be found.
"There's a big problem here," said the Federation of Small Businesses Wales.
The federation's Welsh spokesman Simon Evans said small and medium-sized enterprises (SMEs) make up 99% of the private sector.
"The majority of SMEs are looking to employ more skilled workers but there's a raft of things stopping them," he said.
"The next assembly needs to do anything it can to help people get into the world of work through work experience and apprenticeships."
Mr Evans also called for a review of the regulations surrounding the employment of workers, such as health and safety, PAYE, tax and national insurance.
"Obviously we have to have a workforce which is protected and safe but in many instances we have stifled enterprise with a raft of regulations which cumulatively provide a barrier to taking on people," he said.
"We need a review of all these to see what could be improved to aid efficiency and legitimately free up businesses."
Mr Evans said with attempts to cut red tape in England a level playing field was neeeded for Welsh companies.
Mr Ledwood is group managing director of the Unit Berwelco group, which includes the Swansea-based firm Unit Superheating Engineering.
The company, which employs 80 people, makes parts for gas and coal-fired power stations around the world.
He said: "It would be up to 100 (people) right now if we could get the skills. Welders, fabricators, pipefitters, machinists... there's a whole range of skills that we're short of.
"Getting work really isn't a problem."
Mr Ledwood said it was "very frustrating" that there was work available but the firm could not take it on.
"There's only a certain amount of overtime you can work," he said.
BBC Wales asked for responses from candidates from the four major parties who are standing on the South West Wales regional list.
Welsh Liberal Democrats candidate Peter Black said there was a huge skills gap, and his party proposed a £2,000 training grant for new employees or apprentices, and a business rates freeze.
"There are issues surrounding finance. The banks are just not prepared to lend the money readily. We need to find ways of guaranteeing that money and helping businesses to overcome the lack of confidence that the banks have at the moment.
Welsh Labour candidate Alana Davies said her party had a number of initiatives in place or on the way to help Welsh firms such as an economic renewal programme to create the right environment.
"Wales Labour has put so many things in place for the generic skills, from the education maintenance allowances to protecting students from the increased costs of higher education, the assembly learning grants and so on, but on top of that we're committed to an additional 4,000 apprenticeships."
Welsh Conservative candidate Suzy Davies said Wales needed a manufacturing strategy.
"One of the things that was announced in the Budget of the United Kingdom was the growth in the work experience programme so that you could have 100,000 work experience places created across Britain.
"And of course under the Barnett formula money will come from parliament down to the Welsh assembly to help provide that opportunity here in Wales as well."
Plaid Cymru candidate Bethan Jenkins said Wales needed apprenticeships through local schools and colleges.
"Colleges need to be more hands-on, coming to meet businesses more often so that they understand where they are sending their students. Perhaps then they can have some financial incentive so that the company can be supported while they are accepting apprenticeships.
"We won't be able to have a silver bullet, and to be able to change this overnight, because as a party we are passionate about developing skills in our local communities."
Related Internet Links
The BBC is not responsible for the content of external sites.