Vote 2011: Welsh Labour latest with manifesto mistakes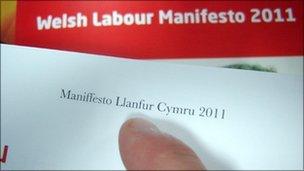 Welsh Labour has become the latest party to say it regrets a series of mistakes that appear in its assembly election manifesto.
The Welsh language version of Labour's manifesto spells the party's name wrong on every other page.
The word "Llanfur" appears throughout instead of "Llafur".
The Liberal Democrats' manifesto also contained errors and Plaid Cymru wrongly attributed a quote in its manifesto to poet Dylan Thomas.
Labour also wrongly uses the word "pennawd", meaning headline, instead of "pennod" for chapter.
More typos - or typographical errors - see a phrase in the first sentence of Welsh Labour leader Carwyn Jones's foreword the wrong way around. It says "Cymru llywodraeth" instead of "Llywodraeth Cymru", meaning Welsh government.
A passage on the party's stance towards Welsh translates as: "Welsh Labour has a good name recording and safeguarding the Welsh language."
On Tuesday Plaid wrongly credited the name of its manifesto - Ambition is Critical - to Dylan Thomas.
That line, which also features in the cult comedy Twin Town, is actually the work of retired social worker David Hughes.
Then on Wednesday, the Welsh Lib Dems published a manifesto which misspelled the Welsh word for general - "cyffredinol" - on the cover. A mistake in their English manifesto's chapter on education said the party would order a review of "how our schools or held accountable".
A Labour spokesman said: "It seems as though typo-gate shows no sign of going away in this election.
"It is probably too late to suggest an all-party commission on proof reading, but it is a lesson learnt.
"Whilst we clearly regret the missed errors, it doesn't change the fact that this is a heavyweight programme of government.
"We'll make the necessary corrections online."