Education takes centre stage in Welsh assembly election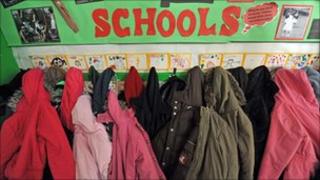 The Conservatives and Labour have attacked each other's plans for education.
The Tories said Labour had presided over falling standards in schools, while Labour said the Conservatives would leave students further in debt.
Plaid Cymru has continued to criticise Labour's handling of education.
The Welsh Liberal Democrats said Labour and Plaid were both to blame for failing to fund schools in Wales to the same level as England.
Tests of 15-year-olds in 67 countries by the OECD have ranked Wales 38th for reading, 40th for maths and 30th for science - the lowest of the UK countries.
Tory assembly leader Nick Bourne said Wales' record in education had gone down under 12 years of Labour.
The Conservatives would cut the assembly government education budget by 12%, but they say changes to the funding system would mean more money for schools.
"We would send the money directly to the schools because the schools are the people who inspire pupils," Mr Bourne said.
Speaking after the OECD's Programme for International Student Assessment (Pisa) was published last December, assembly government education minister Leighton Andrews complained of "systemic failure".
On Monday, Mr Andrews, Labour's Rhondda candidate, said education was a "significant dividing line between Welsh Labour and our Conservative opponents".
He highlighted Labour pledges to maintain education funding at 1% above the assembly government's Treasury grant and to keep the education maintenance allowance (EMA).
The Welsh Conservatives would introduce a tuition fee policy similar to England's, allowing universities to charge students up to £9,000 subject to assembly government approval. A hardship fund would be available for the least well-off students.
'Disappointing features'
A spokesman said they would keep the EMA, but would "make it more targeted" towards students who need it most.
Mr Andrews said: "We have made our pledges, which the Welsh Conservatives do not support to protect Welsh students from the massive increases in tuition fees."
He added: "I think the evidence on the ground is that the Conservative vote is holding up and of course one of the disappointing features of the election campaign so far is how much time Plaid Cymru has spent attacking Welsh Labour."
At a press conference in Cardiff, Plaid Cymru continued to criticise Labour's record on education - a portfolio Labour has held throughout the life of the coalition formed by the two parties in 2007.
Ceredigion candidate Elin Jones said attacks on Labour's record were "not scaremongering", but highlighted differences between the two parties on five policy areas: hospitals, transport, small businesses, schools and broadcasting.
'Phoney war of words'
North Wales regional candidate Heledd Fychan underlined a threat by Mr Andrews in February to close failing schools where he considered the situation irredeemable.
"It's not a choice between performance and closure," she said. She claimed one in three schools was under performing. Plaid would direct schools inspectors Estyn to have a greater role in monitoring and improving standards, she added.
The Liberal Democrats said Labour and Plaid were fighting a "phoney war of words", and that the two coalition partners were responsible for figures showing councils in Wales spend an average £604 less per pupil than councils in England.
Asked about criticism of the UK government's decision to increase tuition fees, Welsh Lib Dem leader Kirsty Williams said fees were introduced by Labour.
Her party in the assembly had opposed fees and tried to mitigate against them, and would pay the difference of increased fees for Welsh students, she said.
"And let's be clear, our poorest students can't even aspire to go to university in Wales because of the failure of the Labour-Plaid government to get our primary and secondary education system right," she said.
Ms Williams said Lib Dems would "close that funding gap and ensure that Welsh students have the opportunity to apply to university in the first place".
The party is pledging to increase funding by £2,500 per pupil for children from the deprived backgrounds.