Labour and Plaid election campaign row over hospitals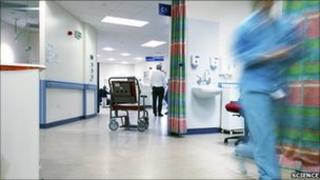 Labour has rejected claims from Plaid Cymru that hospitals will not be safe if it wins May's assembly election.
The former coalition partners are engaged in a bitter row over district general hospitals in the election campaign.
Labour accused Plaid of making "baseless allegations" and scaremongering about the future of hospitals in key seats.
Plaid said Labour has failed to rule out closing or downgrading hospitals.
Threats to hospitals were major issues in the 2007 election which left no party with an overall majority and led to the Labour-Plaid coalition assembly government.
On Wednesday, Plaid health spokeswoman Helen Mary Jones launched an advertising van promising to protect hospitals.
Speaking in front of the advert - which says Labour threatened hospitals in 2007 - Ms Jones said that "if we let Labour go into government that's what they are going to do again".
Llanelli candidate Ms Jones said: "If they are protecting that network of hospitals then they would have said so in their manifesto as we have.
"The absence of any reference at all to that speaks absolute volumes and it's our responsibility to warn people about Labour's lack of commitment to our network of hospitals."
She insisted Plaid's plans were "absolutely affordable".
"We're not talking about freezing the services and keeping everything exactly the same. We know that some specialist services will need to be provided in one place and some in others," she said.
"But basic services, like accident and emergency services, have got to be available in our communities when we need them and we will not tolerate having those services cut or reduced."
Plaid has also asked why Labour's Llanelli candidate Keith Davies has taken out a local newspaper advert under the slogan "hands off our hospital".
'Baseless allegations'
Labour said its campaign in the town was aimed at the Hywel Dda Local Health Board.
A Labour spokesman said: "Despite all evidence to the contrary, Plaid Cymru continue to make these baseless allegations, which Carwyn Jones has already categorically said are untrue.
"Instead of taking on the Tories and helping ensure that their prescription of cuts and privatisation for the NHS in England does not cross the border into Wales, Plaid have resorted to these desperate accusations about Welsh Labour.
"If we followed Plaid Cymru's bizarre logic, we would have to mention every publicly funded organisation or institution in Wales within our manifesto. If we did that, it would be too heavy to lift, let alone read."
He said Labour was committed to investing in hospitals such as Llandudno, Prince Philip in Llanelli, Bronglais in Aberystwyth and Withybush in Haverfordwest.
Plaid's campaign "has descended into pure farce and panic", he added.