Rhondda MP Chris Bryant breaks leg playing rugby match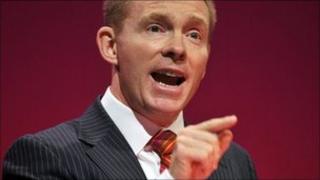 Rhondda MP Chris Bryant has broken a leg during a charity rugby match.
The former Labour foreign office minister fractured his left tibia playing at Twickenham in aid of the Cystic Fibrosis Trust.
He said the injury, which he initially thought was torn ligaments, happened as he was tackled by two players from different directions.
He told followers on Twitter he was in a lot of pain and it had got worse over night.
He said the fracture was diagnosed at the newly-opened NHS Llwynypia Hospital in his constituency.
The 49-year-old said he had hoped to be out on the campaign trial ahead of the Welsh Assembly elections on 5 May.
He wrote on Twitter: "Two men tackled me from opposite directions. Miracle is I had actually caught the ball!
"My contribution to the assembly campaign will now have to be sedentary! Phone canvassing it is!"