Lord Elis-Thomas in tribute to 'proper' Welsh assembly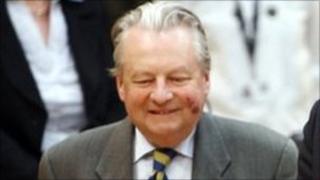 Outgoing Welsh assembly presiding officer Lord Elis-Thomas says it has matured into a "proper" assembly during his time at the helm.
The Plaid Cymru AM has been in the post since the assembly was established in 1999 but will be replaced on Wednesday.
"The new kids on the block, as it were, are now trusted with running devolved Wales," said Lord Elis-Thomas.
He said he would now help to rebuild Plaid, predicting a role in government "sooner" than people thought.
AMs will choose a presiding officer at the first plenary session, following last week's election.
Lord Elis-Thomas will chair the meeting but will not be re-nominated as presiding officer - the equivalent to the Commons Speaker.
He told BBC Radio Wales that he was standing down with the satisfaction of feeling that the job of delivering a "proper" assembly had been done.
"It's been done because the people of Wales believed what we were trying to do," he said. "The referendum (in March) decisively gave us those powers.
"We now have a national assembly which is of equal standing in the devolved areas with Scotland and Northern Ireland and that's an achievement of the people of Wales and of all of us who worked in this assembly, not least of course the officials who served the project."
Lord Elis-Thomas also said opinion had strengthened in favour of devolution in Wales.
"It was a great experience to see the results of the referendum flow in from all over Wales with people giving us the confidence of their vote," he said.
And he added it was "music to my ears" that this included trust in assembly members, to the point that during the expenses scandal they were trusted "a little more, perhaps" than MPs.
The former Plaid Cymru leader said he wanted to get involved in the resurgence of the party, which lost four seats at the election.
"We've got to sort ourselves out," he said. "I'm not a fan of this idea that we need to go back to opposition. We were in opposition for 82 years and I don't see any virtue in going back there.
"There are three or four of us on the Plaid bench that have got parliamentary experience. We all have a contribution to make and we will make it.
On calls for a new Plaid leader, Lord Elis-Thomas said he had full confidence in Ieuan Wyn Jones.
"He's the person who led us into government, led us into a hugely successful referendum," he said.
'Appropriate mechanisms'
Asked if he expected Plaid Cymru to be back in government at some stage with Labour, he replied: "I wouldn't disagree with that. And sooner than the BBC thinks, I suspect."
Meanwhile, Edwina Hart, Labour health minister in the last assembly government, paid tribute to Lord Elis-Thomas's achievements as presiding officer.
She said: "He's been an excellent PO (presiding officer) in terms of stability for the parliamentary side because he's always recognised devolution is a process not a revolution.
"He leaves an excellent legacy because he saw us through difficult times.
"He's seen us develop as an institution, put the appropriate mechanisms in place in the parliamentary part of the institution."