Labour's Rosemary Butler is appointed presiding officer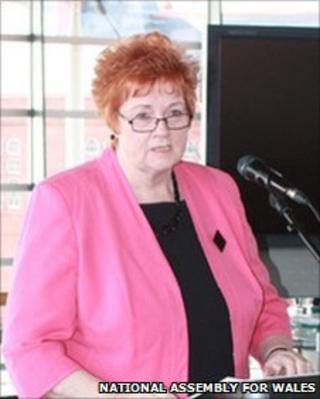 After a 12-year stint as the assembly's presiding officer Lord Elis-Thomas has vacated his black leather chair in the middle of the Senedd.
Some thought it would be filled by the brainy Conservative AM David Melding.
But he decided not to run and AMs have chosen a continuity candidate to keep order among them. Lord Elis-Thomas's former deputy, Rosemary Butler, will preside over the Senedd for the next five years.
Mr Melding will get her old job of deputy presiding officer.
Mrs Butler has been the Labour AM for Newport West since 1999, before which she was a councillor in Newport for 26 years.
Under first secretary Alun Michael she was appointed as the minister for pre-16 education, but was later sent to the backbenches under Rhodri Morgan to make way for a coalition with the Liberal Democrats.
She has served as the assembly's representative on the EU's committee of the regions, as chair of the culture committee and as deputy presiding officer.
She is married to the artist and designer Derek Butler and has two children and four grandchildren. She lives in Caerleon.
Mrs Butler is a founder member of Newport Women's Aid and president of the Friends of Newport Transporter Bridge.
College of William & Mary
Her promotion to the role of presiding officer has the blessing of her predecessor who said he had a high regard for her work abroad and in the assembly.
Like Mrs Butler, her new deputy Mr Melding has been in the assembly since the start, serving as a Tory AM for the south Wales central region.
Before standing for the assembly he twice stood for parliament - in Cardiff Central in 1997 and Blaenau Gwent in 1992, when he lost by the biggest margin of any Conservative candidate in the UK.
Fittingly for someone with friends across the political divide (his profile on the Conservative website says he "gives politicians a good name"), he has advocated coalitions within the assembly that would propel his party into power.
Born in Neath in 1962, he was educated at Cardiff University and the College of William & Mary, Virginia, USA.
He has held frontbench roles in the assembly and chaired cross-party committees.
Mr Melding has been a leading Conservative supporter of further devolution.
As Welsh Tory policy director he wrote the party's manifestos for the last three assembly elections.