Who has made it into Labour's rebranded government?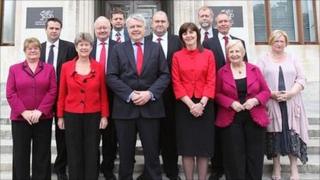 Carwyn Jones has turned to some trusted colleagues in creating his government without a majority.
There are three new ministers around the cabinet table, but all had roles in the last government.
Labour's ability to get a budget passed in the Senedd will be a key test of whether the party can offer stability.
The government's spending plans will be overseen by Jane Hutt, who gets another stint in the pivotal role of finance minister.
She was a member of Rhodri Morgan's inner circle who Mr Jones kept when he took the reins in December 2009.
A cabinet member since the assembly was formed in 1999, she has previously held the big portfolios of health and education.
She must also deal with the Treasury over the way the assembly is funded - an area where Labour wants to see reform.
Edwina Hart was bound to be one of the first names on the team sheet, but her move from health to enterprise and businesses is a notable change from the last government.
She came second to Carwyn Jones in the Welsh Labour leadership contest.
The Welsh government - as it is now called - does not have full command over the economy. Nevertheless, Mr Jones says jobs and the economy will be his administration's top priority.
Big promotion
Mrs Hart's old job goes to Lesley Griffiths, a close ally of Mr Jones. It is a big promotion, putting her in charge of the government's biggest departmental budget.
Leighton Andrews got the education portfolio after running Mr Jones's successful Welsh Labour leadership campaign.
He left his mark by admitting there was "systemic failure" in Welsh education after the country slid down an international league table last year. Having remained in charge of education, he now has the opportunity to fix things.
He must also deal with the thorny issue of university funding and tuition fees.
Carl Sargeant is also close to the first minister. With spending tight, he managed to keep council leaders on side in the last assembly as local government minister. That experience will stand him in good stead as he returns to the role. He also inherits responsibility for transport.
Huw Lewis, who came third in the Welsh Labour leadership contest of 2009, was a deputy minister in the last government. Like Lesley Griffiths, he is now in the cabinet, taking charge of a new and wide-ranging portfolio: housing, regeneration and heritage.
John Griffiths, counsel general in the last government, has also made it to the cabinet, as environment and sustainable development minister.
The deputy ministers are Gwenda Thomas who has been reappointed to social services, Jeff Cuthbert takes on skills, while agriculture, food, fisheries and European programmes falls to Alun Davies.
The Conservatives claimed Mr Jones has simply re-organised the deck chairs. Others will ask whether this government has been assembled with an eye on the possibility that a coalition deal may need to be negotiated at some point in the future.