Davies faces Ramsay in Senedd opposition leader race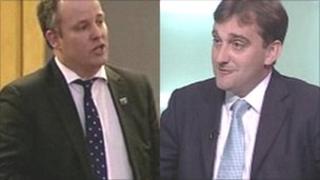 The contest to lead the opposition in the Welsh assembly is a two-horse race, it has been confirmed.
Conservative AMs Nick Ramsay and Andrew RT Davies are in the running to lead their party's 14-strong group in Cardiff Bay.
The vacancy was created when former group leader Nick Bourne lost his seat at this month's assembly elections.
Preseli Pembrokeshire AM Paul Davies will continue as caretaker leader until the winner is named in July.
A farmer from the Vale of Glamorgan, Andrew RT Davies has been an AM for the south Wales central region since 2007.
He sparked speculation about his ambitions when he suddenly stood down as the party's shadow health minister last November.
'Principle of fairness'
Mr Davies said: "The vision that I will be seeking to communicate to the wider party membership in the coming weeks and months is one that continues to reach out beyond traditional Conservative territory, making our party a genuine alternative to a Labour party that has consistently taken Wales for granted.
"I shall be articulating a Conservative philosophy of the centre-right that can empower communities and enrich people's lives.
"Above all, though, it will be built on the core principle of fairness."
He thanked his family in advance for their support during "what will be an exceptionally busy couple of months".
Interim leader
Mr Ramsay was re-elected as the AM for Monmouth for a second term at the election.
Previously a researcher for the Conservatives' assembly group, he was appointed Tory health spokesman in the last assembly after Mr Davies resigned the brief.
He told BBC Wales's Politics Show on Sunday that there was a "very real danger that the Welsh Conservatives could go backwards under another candidate".
After nominations closed on Monday he said: "I have no doubt it will be healthy for the party as a whole to have a clean, honest debate in the same way that David Cameron's open election as our leader energised us across the UK."
He said the Welsh Conservatives must not "change course from being a broad based party with growing appeal".
"My real ambition is simple. I want to take the Welsh Conservatives into government in Wales," he said.
"I will do that as a leader who listens and brings others with him."
Mr Davies was nominated by AMs William Graham, Byron Davies and Darren Millar.
Mr Ramsay was nominated by Mark Isherwood, Mohammad Asghar and Suzy Davies.
Had there been more than one candidate with the necessary three nominations from fellow AMs, the Tory group would have decided which two names go to the membership.
The winner will be chosen in a postal ballot of Welsh Tory members with the result expected on 14 July.
Preseli Pembrokeshire AM Paul Davies was appointed as interim leader after Mr Bourne lost his seat in an otherwise good election for the Tories.
They overtook Plaid Cymru to become the second largest party in the Senedd.
Under the assembly's electoral system Mr Bourne was partly a victim of the Tories' success.
He lost his regional seat after the Conservatives won the Montgomeryshire constituency in the mid and west Wales region.