Tory leadership hopeful Nick Ramsay's broad appeal call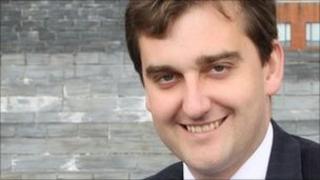 One of the two candidates standing for the Conservative leadership in the Welsh assembly says the party must broaden its appeal.
Nick Ramsay said single parents in the south Wales valleys were an example of groups in society whose support the party needed to win.
The Monmouth AM is up against Andrew RT Davies for the job.
The contest comes after previous leader Nick Bourne lost his seat at May's election.
Officially launching his campaign at Chepstow Racecourse, Mr Ramsay said: "We need to be a party for all of Wales.
"If you look at some of the seats across the Wales that are traditional Labour, I speak to people in those seats and I wonder why it is that they vote Labour because often these people are conservative with a small c.
"I think certainly the Conservative Party has had a perception problem over time."
Mr Ramsay said he wanted to attract voters from all walks of life and all backgrounds to the party.
"I want people to feel that they got a place, a future, in a Welsh Conservative Wales."
His rival Andrew RT Davies is the AM for South Wales Central.
Preseli Pembrokeshire AM Paul Davies will continue as caretaker leader until the winner is named in July.