Carwyn Jones's concern over future of Cardiff Airport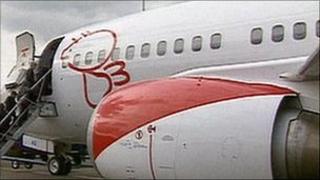 First Minister Carwyn Jones has called for a "close examination" of the future of Cardiff Airport following a drop in passenger numbers.
He said the Welsh Government would work with airport owners to help it grow.
Official figures revealed passengers using the airport fell 14% in 2010. Freight handled at the airport decreased by 84% to 28 tonnes.
The airport said it was talking to the Welsh Government and keen for the discussions to develop.
In April the budget airline bmibaby announced it was pulling out of Cardiff, meaning the loss of nine of its services to destinations such as Geneva and Ibiza.
The decision prompted questions about the long-term future of the airport, which was used by 1.4m passengers last year.
At question time in the Senedd on Tuesday, Mr Jones said: "I am concerned about the future of the airport, with bmibaby leaving - there is no airline with a base at the airport, it's important that such a base is established, and I think there needs to be a close examination of what the airport's future should be.
"How that future is secured, we will work with the owners of the airport to ensure that we see growth at the airport in years to come rather than airlines, for some reason, leaving."
'Blow'
Conservative transport spokesman Byron Davies said: "While these figures do not come as a surprise, they are yet another blow to Wales' flagship airport.
"A decline in international travel opportunities to and from Wales is damaging to Welsh businesses and makes Wales a less attractive place to invest."
He said ministers needed to sit down with airport officials to develop a clear strategy to "stem the airport's decline by making Cardiff a more attractive prospect to potential clients".
An airport spokeswoman said it had been in discussions for some time with the Welsh Government on "ways of working together to enhance route development activities and are keen for these discussions to intensify in the coming months".
She said a joint partnership approach between the airport, Welsh Government and airline had been successful with the start of a four-weekly service to Zurich with Helvetic Airways.
The airport also encouraged similar partnerships to "enhance connectivity to and from Wales."