Plaid Cymru leader urges no retreat to 'comfort zone'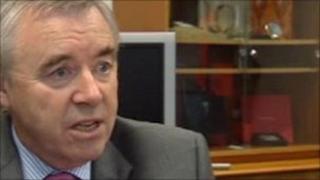 Plaid Cymru leader Ieuan Wyn Jones has warned that his party must not retreat to its "comfort zone" following the results of the assembly election.
Mr Jones, who will stand down in the next two-and-a-half years, said his successor must continue to broaden the appeal of the party.
He warned of the dangers of going back to "core values" and narrowing its appeal.
Being a party of government must always be the main priority, he added.
Speaking on the BBC's CF99 programme Mr Jones said: "There is always a danger...when a party thinks it has done badly in an election (to think) that it needs to go back to 'core values' and narrow its appeal.
"I think that is a mistake. The party now has to extend its appeal across Wales even further."
'Responsibility for government'
He said it needed to extend "to those people who speak Welsh and don't speak Welsh, who live in urban areas as well as rural areas, to become a party of the whole of Wales - primarily to be a party that's always prepared to take responsibility for government."
In a wide-ranging interview with CF99 the Plaid leader spoke for the first time about his decision to resign and about the future direction of his party.
Mr Jones stressed he was staying on as leader at the request of colleagues, claiming that the party "was in the driving seat" over the timing of any decision to step aside.
The priority was to avoid the "utter fiasco" of 2003.
In that year Mr Jones resigned as leader following pressure within his own party after disappointing election results. He was later re-elected to the post.
"I've thought long and hard about that... and I remember in 2003 it was a mistake going too soon," he said.
"I think the party has learnt from its mistakes... it can't spend two years arguing."
During the interview Mr Jones also reflected on his party's record in government and his own achievements as a minister.
He claimed he had made a "considerable impact" in restructuring the Welsh Government's Economic Development department but admitted some frustration at the lack of economic powers at his disposal.
"The Welsh economic minister has very little powers compared with the UK Chancellor," he said.
"(And) can do little to implement the shift necessary to move the economy on."
When asked if his own career underlined the truth of Enoch Powell's assertion that 'Every political life ends in failure', Mr Jones claimed he had achieved "many, many things" - in particular making Plaid Cymru a party of government after 80 years on the sidelines.