Plaid national council to 'learn lessons' of election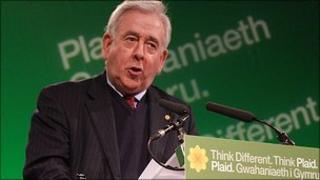 Plaid Cymru's national council is meeting for the first time since the party endured a poor assembly election.
They lost four seats and fell behind the Conservatives to become the assembly's third-biggest party in May.
Former Plaid leader Dafydd Wigley said the national council meeting would help the party learn the lessons of the election result.
Delegates from around Wales are meeting in Aberystwyth.
The party has set up two reviews - one into the election campaign and a wider consultation into the future of the party.
Plaid leader Ieuan Wyn Jones has announced he will stand down from the helm of the party in the first half of the assembly's five-year term.
Saturday's meeting comes at the end of a week in which he had to respond to criticism about his decision to go on holiday instead of attending the assembly's royal opening.
Mr Jones said he had put his family first and did not wish to cause embarrassment.
He was in France when the fourth assembly was officially opened by the Queen, prompting some calls for him to step down immediately.
Baron Wigley told BBC Wales: "Well quite clearly Plaid Cymru has to learn the lessons from the election.
'Matter of months'
"We didn't have a good election. We lost seats and therefore there must be lessons to be learned, and delegates from various parts of Wales and constituencies will bring forward those lessons.
"In the light of those lessons then the next phase of the party's development must be fine tuned.
"We must ensure that the new leadership that will follow Ieuan Wyn Jones when he eventually stands down is one that reflects the wishes of the party and learns the lessons from what went wrong this time."
He added that Plaid had to be ready for local elections next year.
"We are talking about a matter of months, not years," he said.
Meanwhile, Plaid announced the appointment of its new chief executive on Saturday as Rhuanedd Richards.
She has worked as a special adviser for the Welsh Government and as a presenter for BBC Wales.
She takes over during the summer recess from Gwenllian Lansdown who stood down last month to move to Montgomeryshire.