Welsh Lib Dems need cohesion, says Lembit Opik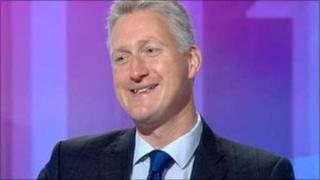 Former Welsh Liberal Democrat leader Lembit Opik says the party needs "cohesion" over its handling of two ousted AMs and possible successors.
Two Lib Dem AMs were forced to give up their seats for being members of public bodies to which AMs cannot belong.
The party has tabled two assembly motions to have them reinstated.
The Lib Dems said it was focused on ensuring the two AMs were able to take up their seats "as quickly as possible".
But Mr Opik says if that fails the party should give assurance it backs its second candidates amid suggestions one candidate is not in favour.
The Lib Dems has said previously the priority was to see their two AMs treated justly.
AMs Aled Roberts and John Dixon were forced to vacate their seats after it was discovered that they had stood for election while members of prohibited organisations.
Mr Roberts was the candidate for North Wales, succeeding from former AM Eleanor Burnham who became the second candidate on the list.
Mr Opik, former MP for Montgomeryshire who is seeking to stand as a Lib Dem candidate in next year's London mayoral candidate, called the situation "an avoidable mess" and said current leader Kirsty William should give clarity.
He said: "If they aren't allowed to come back then the people who are second on the list should naturally be entitled to take their place.
"We should at least seek that clarity now."
He told BBC Wales' Sunday Supplement programme: "There has been some suggestion that the leadership hasn't been falling over itself to reassure Eleanor Burnham that should Aled Roberts not be allowed back in ...that (she) should automatically be allowed back in.
"I'm asking Kirsty now through your programme to reassure Eleanor Burnham and indeed the members of north Wales that in that scenario she will welcome Eleanor Burnham back.
"Because we can't have this kind of infighting when the etiquette and natural justice would demand that [she] would be the next person up."
South Wales Police is still investigating, but the Liberal Democrats have tabled two assembly motions to have them reinstated, which are due to be voted upon at the end of this month.
Earlier this month Ms Burnham said the decision not to allow the party's second place regional candidates to take up the vacant seats made her "worry about political representation in north Wales".
The Lib Dems have previously defended their leader, claiming that Ms Williams had "co-operated fully with every investigation - but her priority was to make sure that Aled Roberts and John Dixon were treated fairly and justly".
"It's odd that Lembit's helpful advice has been offered through the media rather than directly," said a party spokesman on Sunday.
"The Liberal Democrats are focused on making sure that Aled Roberts and John Dixon are able to take up their seats as quickly as possible and this strategy is widely endorsed by party members active in Wales."
The party has said previously that the matter would be "sorted" once South Wales Police and if necessary the Crown Prosecution Service had completed their investigations.