Free paracetamol prescriptions up by a quarter in Wales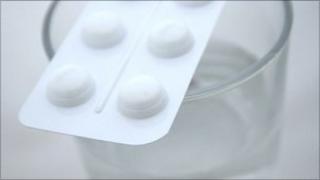 The number of paracetamol prescriptions in Wales has risen by almost a quarter in five years.
Figures obtained by the Conservatives show more than 1.3m items were dispensed in 2010 - 268,642 more than in 2006. Free prescriptions for all were introduced in 2007.
There has also been a 10% rise in prescriptions for athlete's foot powder.
The Welsh Government said its policy was a long-term investment in health.
Prescriptions have been free to everyone in Wales since 2007.
In a written response to the Tories, who opposed scrapping prescription charges, the Welsh Government said the items would have been dispensed in Wales and England.
People living near the border who have GPs in England receive free prescriptions if they have an entitlement card and their medication is dispensed by a pharmacy in Wales.
'Deteriorating'
Shadow health minister Darren Millar said paracetamol could be bought for as little as 16p in shops.
"As more and more of those items are dispensed for free, we have to question whether that's an effective use of resources," he said.
"As the number of prescriptions for items such as these continues to rise in Wales, so the pressure on NHS finances will increase."
A Welsh Government spokesman said: "Determining what medication is given on prescription is a matter for GPs and other prescribers who use their professional clinical judgement based on the patient's clinical needs.
"The introduction of free prescriptions has not changed that.
"We see free prescriptions as a long-term investment in improving people's health, and by providing them with the medication they need, will enable people to manage their own health more effectively at home.
"This will reduce the risk of chronic ill-health or the condition deteriorating and reducing pressure on the ambulance service and emergency departments. "
He rejected an accusation by the Tories that the Welsh Government was cutting its health budget by £1bn.
The government added that since 2000/01, the increase in the number of prescriptions dispensed by GPs year-on-year has fluctuated between 4% and 6%. In 2010/11, the number of prescriptions dispensed increased by 3.3%.
A BMA spokesman said GPs would use their common sense when writing prescriptions.