Elections watchdog under fire over disqualified AM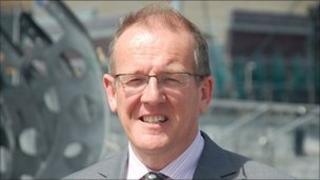 The elections watchdog has been criticised for its handling of the case of a disqualified Welsh assembly member.
One Plaid Cymru AM said a late intervention by the Electoral Commission has created an "absolute mess".
Lib Dem AM Aled Roberts was reinstated after downloading out-of-date election guidance in Welsh from the commission.
It found no hits to the online guidance but said statistics were unreliable.
A report had found newly-elected AM for North Wales Aled Roberts was misled after reading out-of-date guidance for candidates on the Electoral Commission's website.
Mr Roberts returned to work in Cardiff Bay on Thursday after AMs voted to lift his disqualification in May.
But later, the Commission said it has no record of visits to the website Mr Roberts says he used, although it admitted its statistics were unreliable.
Plaid AM Simon Thomas, who had abstained from the vote on Mr Roberts' future, said he was "flabbergasted" by the Commission's intervention after the vote and said the watchdog was not fit for purpose.
"We are left now with an absolute mess," he said.
Mr Roberts, former leader of Wrexham council, stood down a fortnight after May's assembly election.
It emerged he was a member of the Valuation Tribunal for Wales, which deals with appeals about business rates and council tax, and is a public body from which AMs are barred.
A investigation by assembly standards commissioner Gerard Elias QC found Mr Roberts "did everything that he could have reasonably been expected to do" in checking he was eligible to stand for election.
'Very little confidence'
He relied on outdated advice provided online in Welsh by the Electoral Commission, the report said.
AMs lifted his disqualification by 30 votes to 20 in the Senedd on Wednesday, with three abstaining.
Following the vote, the Electoral Commission said its English language web pages received about 143 hits at the time in question, but no one accessed the Welsh version.
But it added in a statement: "As we made clear to Mr Elias we do not believe they (the statistics) are a reliable guide to whether or not individuals used our website and this is reflected in the conclusions in his report."
Mr Elias's report says: "The Electoral Commission is unable to confirm or deny that its website Welsh pages were visited that day."
Another AM who abstained, Plaid Cymru's Elin Jones, said there should be another investigation into the matter.
She said: "Why the Electoral Commission chose to release additional information after the vote is beyond me.
"It's irresponsible on their part to do that. It's not fair on all of us as assembly members who had to vote yesterday and it's certainly not fair on Aled Roberts."
She added: "From talking to AMs across the political parties there's very little confidence in the Electoral Commission within the political parties and elected members here in the assembly at this point."
Conservative AM Darren Millar, who voted against reinstating Mr Roberts, said he had written to the assembly's presiding officer asking for an opportunity to revisit Wednesday's vote.
Mr Roberts said: "A link was sent out on 24 March from the Electoral Commission to the county councils and the Welsh link was wrong. I did look at it.
"If their figures aren't reliable, then that's a matter for them.
"But I know what I did, and that's the evidence I gave to Mr Elias."
Mr Roberts was one of two disqualified Lib Dems.
John Dixon, elected for the South Wales Central region, will not return after he failed to read the relevant regulations as a candidate.
He was replaced as an AM by Eluned Parrott, the party's second-place candidate in the region.