University mergers urged in higher education shake-up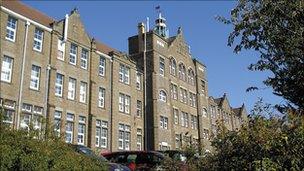 Ministers have been handed proposals for cutting the number of universities in Wales through mergers.
A blueprint from the body that funds higher education says mergers should create a "metropolitan" university in south east Wales.
Education Minister Leighton Andrews, who last year said universities must "adapt or die", is backing the proposals.
It would cut the number of universities in Wales from 11 to six.
A report from the Higher Education Funding Council Wales (Hefcw) calls for a merger between the University of Glamorgan, the University of Wales Institute Cardiff (Uwic), and University of Wales, Newport.
It would create a "metropolitan" university, comparable to those in similarly-sized cities and regions around the UK.
Trinity Saint David and Swansea Metropolitan University should merge as planned, Hefcw says, potentially with the University of Wales.
The three announced they would work together over the coming months to create a unified institution under the charter of the University of Wales, with the aim of a formal merger by August 2012.
Hefcw says a strategic alliance between Aberystwyth and Bangor universities should be deepened, with a long-term plan for merger.
Its report says "there are good grounds for arguing that the structure of the HE sector in Wales is distinctly sub-optimal".
Cardiff and Swansea Universities will continue to exist as separate institutions, although with more collaboration between them.
Mr Andrews said the report makes "a persuasive case for change and offers a clear rationale for the preferred structure proposed by the council".
"I am therefore minded at this stage to accept the broad thrust of Hefcw's recommendations," he said.
Mr Andrews said there would be more consultation with affected institutions before any final decision and dissolution order is made.
The report was published in the week that eight Welsh universities were told they would be allowed to charge students the maximum tuition fee of £9,000 a year. Welsh students will have the fees rise paid for them by the Welsh Government.
A spokesperson said the University of Wales, Newport had noted the announcement, but would not comment until its governing body and senior management had a chance to consider it in detail.
Trinity Saint David vice chancellor Prof Medwin Hughes will become vice chancellor of the University of Wales as part of the merger. The University of Wales's current vice chancellor, Prof Marc Clement, becomes president.
For the Conservatives, shadow education minister Angela Burns said: "At a time when there is considerable uncertainty over the future funding of universities, institutions need to co-operate and collaborate to ensure value for money for taxpayers, but we need to hear reassurances from the minister that the mergers proposed are sustainable and in the best interests of the education of young people."
Plaid Cymru education spokesman Simon Thomas urged Mr Andrews to proceed with "great sensitivity".
"I have particular concerns regarding the merger of institutions which currently see their future as independent bodies, albeit working together collaboratively, as the minister has refused to say whether he will force such mergers through," he said.
Liberal Democrat education spokesman Aled Roberts said the Hefcw report "is based on no significant discussion with the universities themselves and there is a lack of detail regarding some of the recommendations regarding Aberystwyth, Bangor and Glyndwr universities".