Official 'suspended' after Welsh Government office leak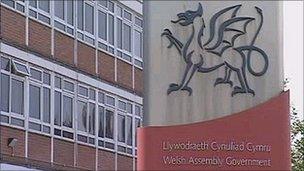 A civil servant has been suspended for revealing proposals to close Welsh Government offices, says a trade union.
The Public and Commercial Services (PCS) union said one of its representatives had been suspended for passing on information.
The Welsh Government declined to comment about the suspension.
Ministers have said they are committed to keeping jobs at the offices proposed for closure.
The Welsh Government is considering a location strategy which the PCS warned earlier this month could see some offices close.
It said there would be a threat of redundancies if offices in Llandrindod Wells and Newtown, Powys, closed because of the distance to bigger Welsh Government offices in Aberystwyth.
There are 117 staff at Llandrindod Wells and 83 at Newtown.
The union has also raised concerns about the impact of closing an office in Caernarfon where there are 92 staff.
PCS Wales secretary Peter Harris said the union was "happy that we've had some assurances about keeping a presence now in those locations".
"The bad news, very disappointingly, is a union representative working for the Welsh Government has been suspended," he said.
"I just cannot understand why a union representative has been suspended for blowing the whistle that there are jobs at risk in mid Wales and other parts of Wales."
He added: "I have told the civil service clearly that no document was leaked to the press or anybody else by PCS."
If the suspended official lost his job it would "cause havoc to industrial relations" and "could even result in industrial action", he said.
A Welsh Government spokesman said: "We do not comment on staffing matters."
In a statement, Finance Minister Jane Hutt said the government was committed to retaining jobs in Caernarfon, Carmarthen, Newtown and Llandrindod Wells.
She said it was exploring opportunities to co-locate with other parts of the public sector, encouraging flexible working, hot desking, working from home and using other Welsh Government buildings.
Plaid Cymru AM Alun Ffred Jones, who raised the issued in the Senedd chamber on Wednesday, said: "These regional offices are vitally important to the communities they serve.
"Cutting any of these services would be a terrible blow for those areas. "