Cheryl Gillan's sofa government cushions the cost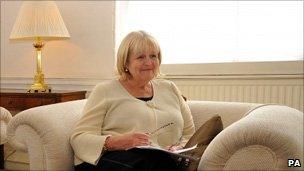 I know what you're thinking. Enough about Murdoch, Coulson and co, tell us about Cheryl Gillan's appearance before a Commons committee yesterday.
The Secretary of State for Wales was grilled, at varying temperatures by MPs on the select committee on Welsh affairs.
There was the usual surplus of jargon - other politicians have meetings, Mrs Gillan has bilaterals - and a couple of sharp clashes with Labour MPs.
Susan Elan Jones, from Clwyd South, accused Mrs Gillan of a conflict of interest in opposing high speed rail through her Buckinghamshire constituency despite possible benefits to Wales.
It got personal. The clash lasted 6 minutes 20 seconds and featured more references to "Miss Jones" than an episode of Rising Damp before the chairman, David Davies, intervened.
"Miss Jones," said Mrs Gillan. "I'm sure one day you'll be a Minister". (Miaow).
Miss Jones: "But I don't ask to be Minister for the Chilterns, that's the difference."
Mrs Gillan: "If you are a minister you will get the ministerial code and ministers are free to make their views....."
Then a friendly Tory question about her achievements in office led to a surreal discussion on recycled furniture and gaffer tape.
"There was gaffer tape holding parts of the carpet together. It just looked as if it was run down and it wasn't the best thing for Wales."
Was she, asked Labour's Owen Smith, really saying she was particularly proud of sorting out the gaffer tape? "Perhaps the previous incumbent (Peter Hain) was very careful with government money in respect of furnishings?" suggested the Pontypridd MP.
Mrs Gillan then demonstrated her frugality: "Two of our cabinets were obtained free from the Department of Health and our three piece suite was also obtained free from across the road in the Scottish Office."
I'll resist the temptation to speculate on the quality of something thrown away by Scots. There then followed a debate on possible constituency boundaries for the Welsh assembly.
Mrs Gillan disputed Mr Smith's view of a meeting held on the subject.
Owen Smith: "It's my interpretation and therefore I think accurate."
Mrs Gillan: "The arrogance".
Plaid Cymru asked whether the Wales Office still planned to publish details of a commission on Welsh devolution by next Wednesday. Maybe.
But no-one asked about the mysterious Wales Office Minister John Davies MP, "Wales Office Minister on Rural Economy" who has been writing for the Daily Post and the Western Mail.
Sadly, it appears Mr Davies's existence is one of those newspaper exclusives so good it's destined to remain exclusive.