Tories' Welsh assembly leader to name shadow cabinet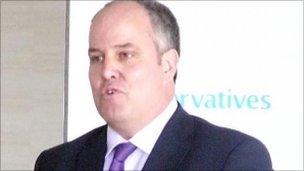 The new leader of the Conservatives in the Welsh assembly will announce his shadow cabinet in a "couple of days".
Andrew RT Davies said he wanted to speak personally with each of the party's 14-strong group, before making his decisions.
The South Wales Central AM was speaking during a visit to Sharp's solar panel factory in Wrexham, a day after winning the leadership contest.
He beat rival Nick Ramsay with 53.1% of the votes in a party election.
Mr Davies said: "We have a great, talented team in the assembly who have hit the ground running already in the first term since the election.
"And I know full well that each and everyone of them will take up the challenge with relish and hold the government to account and make sure that the people of Wales have confidence in Welsh Conservatives who are on their side fighting their corner."
Mr Davies has been an AM since 2007 and sparked speculation about his ambitions when he suddenly stood down as the party's shadow health minister in November 2010.
The party leader job became vacant after previous leader Nick Bourne lost his seat at May's election.
During his first engagement as the party's new leader, Mr Davies chatted with staff as he toured Sharp's Llay factory which is doubling the production of solar panels.
"It plainly shows that there's a growing appetite for solar technology and it demonstrates how jobs can be created from renewable energy," he said.
"Green growth is vital for Wales and we need to encourage more companies like this to get involved and play a key part.
"The Welsh Labour government needs to look hard at its plans for building a green economy and come up with a coherent and detailed strategy.
"I don't believe enough is being done to seize those opportunities and reap the rewards.
"There's simply too much Labour emphasis on wind energy in Wales. We need promotion of a diverse range of renewables, including solar.
"Now we need the policies in place to help others follow suit."
A Welsh Government spokesperson said: "Our renewable energy statement 'A Low Carbon Revolution' sets out our ambitions for low carbon energy technology in Wales and demonstrates Wales' potential to produce more renewable electricity than we consume as nation by 2025 from sustainable renewable technologies.
"Solar technologies, utilising the relatively good level of solar irradiance in Wales, will play an important role in creating a diverse low carbon energy generation mix and enhance our long term energy security of supply.
"Our aspirations for Solar PV are included within the targets set out in our energy policy statement to install 1GW of electricity capacity from local generation by 2020."
It went on to say: "We now believe we have the potential to annually produce up to 40 terawatt hours of electricity from a variety of renewable sources by 2025 with 25% of this coming from marine, 50% from wind (both offshore and onshore) and the rest mainly from sustainable biomass power or smaller local (including micro) heat and electricity generation projects using wind, solar, hydro or indigenous biomass."
Mr Davies also visited the Royal Gwent Hospital, Newport, on Friday.
Related Internet Links
The BBC is not responsible for the content of external sites.