Auditor general to report on Blaenau Gwent council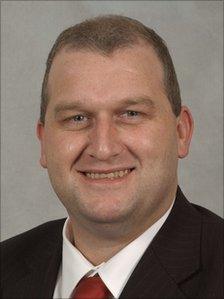 The local government minister has ordered an inquiry into the running of Blaenau Gwent council after its education service was placed in special measures.
Carl Sargeant has asked the auditor general for his opinion on the council's wider corporate management.
It follows criticism by schools inspectorate Estyn.
The council says it is making progress in specific areas where it has been asked to improve.
A spokeswoman for Mr Sargeant confirmed he had asked for the Wales Audit Office report in the light of Estyn's findings.
"Under the Local Government (Wales) Measure 2009, the auditor general will look at the authority's capacity to fulfil its duties to secure continuous improvement," she said.
'Quite simply unacceptable'
"While the auditor general routinely inspects all local authorities on these terms, last week's Estyn report clearly means that Blaenau Gwent needs particular attention.
"The auditor general will report his findings to the council and the minister as soon as possible."
Education Minister Leighton Andrews said last week he had no choice but to intervene and place the council's education department into special measures after Estyn's report.
An independent recovery board will oversee improvements.
Mr Andrews said the shortcomings were "quite simply unacceptable".
Estyn found children and young people in Blaenau Gwent "do not make good progress" and that standards "are well below what is expected".
David Waggett, Chief Executive Officer at Blaenau Gwent council, said the authority looked forward to working further with the Wales Audit Office.
"All local authorities in Wales - including Blaenau Gwent - have regular external and internal reviews, including those by the Wales Audit Office," he said.
"Its last annual improvement report on Blaenau Gwent noted that, as with any council, it would be unusual not to find things that can be improved.
"The audit and inspection body gave the council several proposals to help us further improve. I'm pleased that we've been making demonstrable progress on them all.
"The council knows it must do better in some areas, but I am confident that overall we do have good governance arrangements."
"We have also worked with the Wales Audit Office, as it conducted its annual audit over the past few months. We look forward to continuing to work with the Wales Audit Office."
The Wales Audit Office said it had nothing to add.
Earlier this year Mr Sargeant appointed commissioners to run Anglesey council after years of political infighting, taking all executive powers away from councillors for the first time at a UK local authority.
Related Internet Links
The BBC is not responsible for the content of external sites.