Grand Designs? Wales Office's £185,000 builders' bill
David Cornock
Parliamentary correspondent, Wales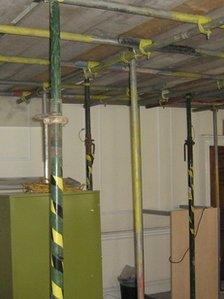 As Loyd Grossman might say, who would work in an office like this?
The answer is the Secretary of State for Wales, although the decor at her Whitehall base was not of her choosing. It cost £185,000 to make safe and redecorate Gwydyr House.
Her deputy, David Jones explains: "On the change of Government, it was apparent that Gwydyr House, a grade 2* listed building, was in need of a significant amount of work to make it structurally sound.
"A large office on the ground floor was unusable and most of the staff who had previously occupied the room had been temporarily evacuated to another building, as the room was occupied by acro props that were supporting a first floor office."
The problem was so bad Cheryl Gillan was unable to host more than 12 people at a time in her room - handy should the Secretary of State wish to manage the guest list at future receptions.
We may now know who the Prime Minister has entertained at our expense, but the list of those attending Mrs Gillan's St David's Day bash remains a state secret.
But I digress. The cost of the works at Gwydyr House was obtained by the former Wales Office Minister Wayne David, who thinks his successors paid over the odds.
"While I would accept the need for structural problems to be addressed, I think refurbishment has been somewhat extravagant.
"I had responsibility for this before the election. What we were going to do was proceed on the absolute minimum to make the place secure so I think spending £185,000 seems to have gone beyond that."
Mr Jones insists the refurbishment isn't extravagant - the new furniture was free - but has accused the last Labour Government of "neglect" of a grade 2* listed building.
Something for Wales Office ministers past and present to discuss at the Secretary of State's next reception - if Mr David makes it on to the guest list.