RAF base removes Welsh education 'disadvantage' claim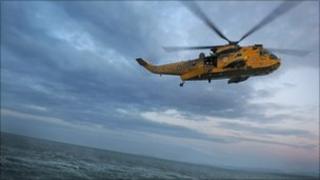 An RAF base has been criticised after offering private education so families' children would not be "disadvantaged" by Welsh-medium education.
The MoD blamed "poor drafting" for a RAF Valley webpage referring to the £4,500 allowance.
The wording, which a local MP called "clumsy" and "out of tune", was changed.
Parents in the forces posted in areas with mainly Welsh-medium state schools can apply for the funding.
The RAF Valley webpage originally said the money could fund private school places for non-Welsh-speaking children who would otherwise be at an educational and social "disadvantage" because of the local bilingual education policy.
'Clumsy'
Ynys Mon MP Albert Owen said he spoke to the commander at Valley about the "clumsy" wording on the website.
"When I pointed it out to him he was not best pleased," he said.
"Whoever devised that website is out of tune with what happens on the ground here. The RAF is an important part of the community.
"Youngsters can assimilate pretty quickly. I don't see them being impaired - their education - at all by being assimilated into a local school.
"That website was completely out of sync and out of character and I am glad it (the wording) has been removed.
"Whoever wrote it doesn't understand the area and what happens here."
He added: "There's a lot of personnel who do send their kids to local schools and that's their choice.
"We have got good quality on the island and what we need to do is build local schools up."
Llyr Huws Gruffydd, Plaid Cymru AM for north Wales, said the allowance was "wholly inappropriate because it suggests that the MoD (Ministry of Defence) is proactively trying to take children out of Welsh-medium education which I think is a mistake".
The way the website was written "smacks of the old colonialist attitude that we were all hoping was a thing of the past", he said.
In a statement the MoD said: "This allowance is available to any service parent posted to north Wales if they do not wish to require their children to learn a new language during their education.
"There is no compulsion to use the allowance and parents can send their children to the local bilingual or Welsh speaking schools if they wish."
An Isle of Anglesey County Council spokesperson said it worked with and supports the island's schools to provide an "effective and successful" bilingual education for all of its pupils.
"The provision of a bilingual education helps pupils develop into confident members of a vibrant multicultural society," said the spokesperson.