Badger cull: Expert panel appointed to examine science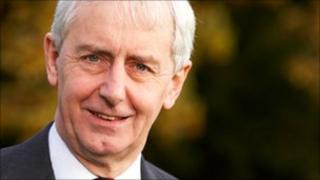 A panel of experts who will review the scientific evidence on tackling bovine TB in Wales has been named.
Controversial plans for a cull of badgers in west Wales were put on hold by the Labour Welsh Government in June while the review is conducted.
The cull was part of an attempt by the previous Labour-Plaid Cymru coalition government to eradicate TB from cattle.
The panel is expected to produce a report in the autumn.
The previous Labour-Plaid coalition administration had planned the cull alongside other measures to control TB in cattle in an area of north Pembrokeshire - the so-called Intensive Action Area.
The cull was revived in March, eight months after the coalition was forced to shelve the proposal following a legal challenge by the Badger Trust.
Labour, governing alone since May's assembly elections, promised a "science-led" approach towards bovine TB in its manifesto.
On Friday Wales' chief scientific adviser Prof John Harries and the chairman of the panel, Prof Christopher Gaskell, announced the scientists who will do the work.
Prof Gaskell, principal of the Royal Agricultural College, said the team "brings together a range of experience and perspectives which will allow us to make a full and proper assessment of the evidence base that informed the programme for the eradication of bovine TB.
"I very much look forward to working with the panel in taking forward this important work on what is undoubtedly a difficult area.
"The panel will invite and take evidence from experts in the area as appropriate."
Last month, NFU Cymru president Ed Bailey voiced concerns about delays in announcing the review panel and its chair.