Welsh NHS prescription cost rises to £594m in decade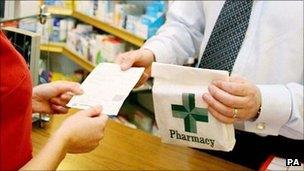 People in Wales received an average of 22 items on prescription last year, costing the NHS £594m.
The Welsh Government figures on GP prescribing show a 61.9% rise over the past decade.
Conservatives say the figures show free prescriptions, introduced in April 2007, can no longer be sustained.
But a source close to Health Minister Lesley Griffiths said free prescriptions were seen as a "long-term investment in improving health".
The source added that providing free medication helped to keep people out of hospitals through reduced emergency admissions and, therefore, reduce the cost to the NHS.
Conservative health spokesman Darren Millar said: "These figures confirm that - at a time when Labour is cutting the health budget in Wales - the universal free prescriptions policy simply cannot be sustained."
In all, 70.1m items were dispensed by pharmacies in 2010-11, up from 43.3m since 2000-1.
More prescription items per head were dispensed in Wales than in other parts of the UK: 5.5 more than England, 5.6 more than Scotland and 3.3 more than Northern Ireland, according to figures released by the Welsh Government.
Marcus Longley, director of the Welsh Institute for Health and Social Care at the University of Glamorgan, said removing free prescriptions to people in Wales who could afford to pay may possibly save "tens of millions".
But he also told BBC Radio Wales that giving people free medication when they need it may save money in the long run as, possibly, people would seek treatment early and, therefore, their condition would be prevented from becoming worse.
Mr Millar said: "Since 1999, the number of items dispensed per head has increased by 61% and the cost of those items has risen by more than £206m.
"That fuels serious concern over the Welsh Labour government's use of precious NHS resources.
"Those who can afford to contribute towards their prescriptions should be able to - and the money saved should be used, in part, to create a cancer drugs fund - similar to the one benefiting thousands of patients over the border."
But the source close to the health minister said: "Despite the savage cuts made to the Welsh Budget by the Tory-led UK government, we are maintaining investment in health and social services in cash terms, with 43% - the largest single proportion of our overall budget - being invested in health and social services."
The source added: "We do not see a need for a separate cancer drug fund in Wales.
"We already spend approximately £5 more per head of population than England on cancer treatment.
"Even with the additional £200m available in England, it is still less than what we spend per head in Wales.
"There also appears to be no guarantee that all patients who request a given medicine will receive it even with the cancer fund.
"In May this year, the people of Wales overwhelmingly rejected Tory plans for marketisation, more competition and scrapping free prescriptions and instead, backed Labour's vision for the NHS."
The British Medical Association in Wales has been asked to comment.
Related Internet Links
The BBC is not responsible for the content of external sites.