Labour's targets pledge in five-year programme in Wales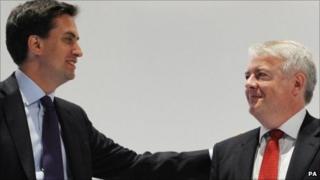 First Minister Carwyn Jones says his programme for the Welsh Government will contain targets so that voters can judge his administration's performance.
Four-and-a-half months after May's assembly election, he will present his plans for how Labour will deliver its manifesto to the assembly on Tuesday.
Aides said the move would make the Welsh Government "more open and accountable".
The opposition accused Labour of taking too long to prepare the programme.
Policy areas will be accompanied by "indicators" with annual updates published to show whether the government is on course. But there will not be a timetable, officials said.
Speaking to the BBC at the Labour conference in Liverpool on Monday, Mr Jones said: "It will contain targets.
Headline pledges
"It will contain ways in which those targets can be measured because I want people in 2016 to look at that document and say: judge these people against what they've done, not what they said they'd do, but what they've done."
Before May's election - when his party won exactly half the seats in the Senedd - Mr Jones said Labour would focus on delivery if it was returned to a fourth term in office.
The first minister has already outlined the legislation the Welsh Government intends to introduce during the course of the five-year term, with bills to create more cycling routes and to change the organ donation system.
Mr Jones told the Labour conference the five headline pledges of Labour's assembly election campaign would take centre stage.
They include a commitment to protect front-line spending on schools, easier access to GPs at weekends and evenings, and more apprenticeships and training.
Conservative assembly group leader Andrew RT Davies said Labour had shown "a clear inability to succeed" on health, education and the economy.
"It has failed to deliver over the last 10 years and there is no reason to believe this assembly term will be any different," he said.
Plaid Cymru AM Simon Thomas said publishing a programme would help the opposition scrutinise the minority government.
He said: "There will be times when we will work with the government when we believe it's on the right track, but we will also want to influence government plans when we think that that is appropriate."
Welsh Liberal Democrat leader Kirsty Williams said: "The best part of half a year has been wasted since Labour formed a government, but we are still no closer to understanding what Labour wishes to achieve in power."