Welsh economy 'faces loss of 21,000 public sector jobs'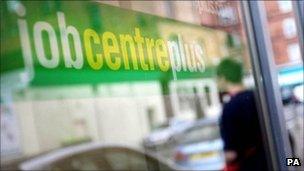 The latest outlook for public services in Wales contains a startling forecast for job cuts.
The Wales Audit Office (WAO) estimates 20,985 jobs will disappear from the public sector over four years.
The actual number of losses could turn out to be lower if public services can minimise cuts.
But things might be worse. In addition to direct job cuts, there are fears of a knock-on effect for the rest of the economy.
The wider job market could take a hit as a result of less being spent on goods and services from the private sector, the WAO says.
It notes it will not be easy to find work for the people laid off by the public sector.
"There will be a challenge to replace the lost jobs in the public sector through new private-sector jobs," its report says.
Prof Max Munday, director of the Welsh Economy Research Unit at Cardiff University, said manufacturing and private business services would be critical in trying to make up the shortfall from public sector job losses.
"Having said that, one has to remember that some of the highest qualify jobs in the manufacturing sector in Wales are centred in a few large facilities," he said.
"My feeling would be that the Welsh government and its agencies need to look very, very carefully at our manufacturing sector to do what they can to keep it here."
The cuts follow a period in which public sector employment has grown in Wales - from 302,000 jobs in 2005 to 345,000 last year.
Almost two years since the recession ended, unemployment continues to rise.
Between June and August, 16,000 people in Wales lost their jobs, meaning 131,000 are out of work.
Figures released this week showed a growing number of young people in particular joining the ranks of the unemployed.
The number of 18 to 24-year-olds claiming jobseekers' allowance rose by 3,500 in the year to September.
Paul O'Shea, Welsh secretary of the biggest public sector union Unison, said the estimate of 21,000 job cuts matched the union's warnings.
"It's really bad news for Wales," he said.
"We've already seen desperately poor unemployment figures this week with unemployment in Wales running at 9% now."
Accountants PwC have said combined private and public sector job losses in Wales could climb to 51,000 by 2014/15 as a result of the spending squeeze.
Nick Jones, director of PwC's public sector research centre, said: "Regions like Wales, like the north-east [of England], that have a greater preponderance of public sector activity, then those are the ones we anticipate would be particularly badly hit."
Most of the job cuts predicted by the WAO would come in 2014-15. So if economic growth takes off soon it could help absorb public sector job losses.
But with the threat of a double-dip recession looming, Mr Jones pointed out: "No-one really knows how long it will take to rebuild."
Related Internet Links
The BBC is not responsible for the content of external sites.